Adding Moore to the Ridge
One of the new Shadow Ridge Assistant Principal's, Mashelia Moore, has worked extensively to make it to this point in her career as she starts this new chapter by returning to her home high school. As an older sister, former teacher, and Shadow alum, Moore knows all the inner workings of a functional school system.  
Since she was in high school, Moore decided she wanted to work with children. This idea initially did not include education but working as a pediatric dentist. However, when the tables were turned, Moore took a different approach of getting to live the dream of helping kids one way or another.
"Helping in their early education years and teaching them to read had a big influence on the path and passions of my life. I saw the impact I can have on them at an early age, which made me want to pursue education instead of pediatric dentistry." Moore vocalizes, "I wanted to influence children's brains, not their teeth."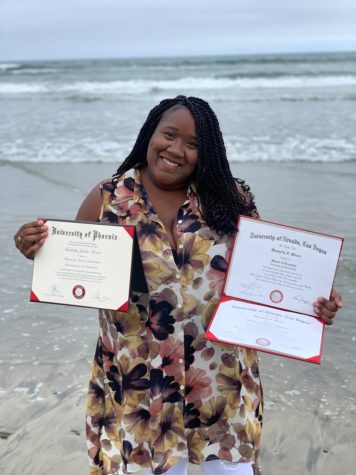 Knowing all the job entails, Moore decided to plan her career and work strategies around helping children as much as possible. Every great story always has to start somewhere; for Moore, that was hitting the books. 
"I am a first-generation college student. I attended the University of Nevada Las Vegas and the University of Phoenix," Moore discloses. "I have earned  a Bachelor's Degree in Education, a Master's Degree in Curriculum and Instruction, with an emphasis in mathematics, and a Master's Degree in Administration and Leadership."
While spending eight years in college, four years for her first degree and two years for each master's degree, Moore dedicated herself to improving herself and progressing her skills even further. Moore never saw herself working with any grades above elementary, starting with very young kids, but she has been adapting to the new environment.  
"The shift has been more challenging than expected. Getting to know the students in the quad and the cafeteria is difficult because they are in their friend groups, and getting them to open up has been harder than elementary students." Moore explains that younger kids are more eager to get her attention than high school students who do not want the attention. 
"
Ms. Moore quickly became a teacher I could trust and respect when she started teaching. I have no doubt the students at Shadow Ridge will have as much admiration for her as I do!"
— Melissa Heurot
"The most important part, for any level of education, is knowing who is in your building and their names. I want students to know I see them and value them," Moore states.
This new experience has been a significant change for Moore, but she never gets deterred and always finds a reason to keep pushing. With the changes and difficulties come times when thinking about what her previous teaching life used to be like faces, especially when running into former students. 
"I miss getting to know my students on a personal level; all of them. I miss the team building that I would establish in the classroom." Moore reminisces, "I miss seeing their little faces. They were always happy to see me, not very often here."
Moore is highly goal-oriented and strives for the same standards, if not better, for those around her. Though she can get caught up in all the work, Moore has a solid bond with her family and soaks up all her alone time. 
"I was born and raised in Las Vegas and try all new foods and activities with my family. I enjoy live sports, such as baseball, basketball, and hockey. My love to read extends to romantic comedies, thrillers, and suspenseful novels," voices Moore. "Some of my favorite books are The Wedding Date, Four Agreements, Harry Potter: Goblet of Fire, and The Love Hypothesis." 
Considering that Moore does escape rooms in her free time, it is no surprise that she will be a great addition to Shadow's complex staffing department.