Serving Up a New Year in Tennis
After a successful season last year, Shadow's tennis team looks to do even better this year after tryouts on Tuesday.
Senior Rick Andersen stated "We had a lot of fun at tryouts, even though there was tons of competition we still had fun with it and just made us even more excited for the season. I'm excited to see where we end up and I know we will put in our best effort."
The team has a lot of confidence going into the season and they believe they have what it takes to go all the way this year.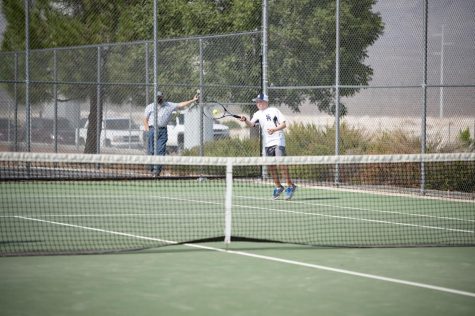 Andersen said, "I feel like we have a lot of good talent to work with this year. I feel very confident that we can pull it off this year and get another banner up on that wall."
With all that confidence, Shadow Ridge is excited to see where the team ends up this season. In both singles and doubles, the team is feeling like they have an advantage this season because of their effort at practice and their overall high expectation for themselves. The team seems to have a lot of fun on the court and they believe that leads to some of their success.
"The team has a lot of chemistry and we tend to have fun while still staying focused on our goal which is to get better each practice. That will definitely lead to us being better in doubles because not only are we having fun while playing were always learning and are ready to learn and improve our game," said Andersen.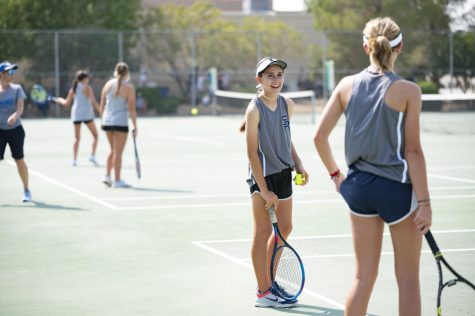 They continue to work no matter how much fun they are having at practice. The team is determined to learn to work even better together. This season the team's confidence and chemistry with determination to win and get better  and will ultimately help them be successful. The whole team is excited to have fun while playing with their friends and improving their game.
Andersen said, "Overall I feel like this will be my favorite year of tennis so far and I cant wait to play our first match."