La La Land Resumes as Title Town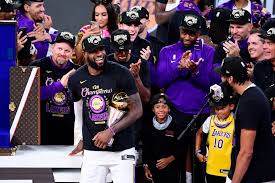 The Los Angeles Lakers capped off one of the most bizarre seasons in NBA history with a championship win. This win secures their 17th Larry O'Brien trophy, tying the Boston Celtics for the most in the league. Championships are no stranger to the Lakers, dominating the league across several decades, but this one felt a little more special, due to the hardships it took to get to it. Right as LA was picking up steam to head to the playoffs, lead by LeBron James and Anthony Davis, COVID-19 broke out across the league, causing the season to come to a hault. They then resumed the season five months later and moved all games to Disney World in Orlando. The league enforced a "bubble" where no one outside of the NBA could come in or go out, barring family emergencies. Players were forced to quarantine before being able to enter the bubble, and they were tested for the virus daily. It was different to watch basketball with no fans in attendance, but it was easy to see how competetive the play was each game.
The Lakers faced the Miami Heat in the NBA Finals, beating them in six games. The Heat were the fifth seed in the Eastern Conference, with the Lakers being the first in the west. Miami was not favored to win the series, with LA besting all of their previous opponents in the playoffs in only five games. LeBron James and Anthony Davis paved the way for the Lakers in the Finals, averaging 29.8 and 27.7 points per game. The Miami Heat were shorthanded, lead by Jimmy Butler and a pack of rookies.
Jayden Equipado, senior, a die hard Laker fan from the day he understood the game of basketball, states "Man, it really did feel good to watch my team win the chip again. It has been ten years since we were in title contention, and it was a great feeling watching this team be number one. We won this one for Kobe, but don't think we are going to stop here, I see us being at the top of the league for at least the next five years. LeBron got us. AD (Anthony Davis) is that dude, and he got us too."
The passing of Kobe Bryant did nothing but hurt the world, and it was a very story-like ending to the NBA season with the Lakers, the team Bryant played on for 20 years, holding up the trophy strong and high in honor of Kobe. Although they have won the title, LA hopes to improve their team in the offseason by trading for or signing key players with players like Kyrie Irving, Kevin Durant, Steph Curry, and Klay Thompson all returning from injury.