Kale Nelson: Signing Off
Senior, Kale Nelson, has been the Editor in Chief of The Lariat for the last three years. Previous to that, he was a journalist, photographer, and sports editor. His contributions to the school newspaper have been invaluable and much appreciated by many of the students who have been in the program.
Nelson became interested in journalism, although he didn't even realize it,  before he learned to walk.
Nelson stated, "Since Mrs. Smith is a family friend, she's been shaping me to be an editor since the year I was born. I heard when she visited my family while I was young, she would whisper "Editor of The Lariat" in my ear in hopes that it would imprint in my brain. In truth, though, I wanted to be the editor because writing interests me and I really wanted some experience with it."
Nelson plans on studying communications with an emphasis in journalism when he attends Southern Utah University in the fall. Nelson was always very successful academically, especially in English, so journalism seemed like a natural fit for an elective his freshman year of high school. His skills, along with his love of writing, definitely influenced his decisions when trying to decide on a major for college.
"Journalism has greatly improved my talent in the field of English, introducing me to different styles of writing and topics I may not otherwise have ever learned or written about. The class has also helped improve my time management skills and taught me how to efficiently get  work done by a deadline," stated Nelson.
Nelson is currently the only member left on The Lariat staff who remembers when The Lariat was published in a print format. When the pandemic hit, and everyone was quarantined at home, The Lariat switched to an online format and they haven't looked back since.
"Kale definitely made the transition to an online paper easier for me," stated Mrs. Smith, the journalism adviser. "He welcomed and encouraged any new ideas that I, or the other journalists, offered up. If I wasn't quite sure how to execute something online, Kale would watch training videos to see if he could figure it out. The paper is now read worldwide and that is pretty much because of Kale's influence."
Even though the online newspaper has become a worldwide hit, Nelson still longs for the days when he would go to each classroom and deliver a paper newspaper.
He stated, "I actually really enjoyed the program we used to make the print newspaper, so I might've enjoyed making that one better. However, I think the online newspaper is a cleaner and more effective method of delivering news that Lao, Mrs. Smith, and I built from the ground up."
While Nelson orginally started in journalism focusing on sports articles, he quickly began to realize that investigative journalism and student spotlights appealed to him as well. He was the journalist who uncovered the pool on the roof, he exposed Dennis Speak's underground raquetball club, and got to the bottom of Mr. Gilmore's Fancy Fridays. Nelson kept the feature "Are You Smarter Than a High Schooler" going after the previous journalist who wrote that feature graduated. Nelson also took great pleasure in making sure that as many "unsung heroes" in Shadow's hallways were featured in The Lariat.
It wasn't all fun and games in the journalism room, however. Nelson, as the Editor in Chief, stated that things can get a bit stressful and heated and he doesn't  "enjoy that Mrs. Smith makes me take responsibility any time anything goes wrong." With a great title, comes great responsibility. Nelson would often have to pick up the slack if younger journalists didn't get important articles written, or if last minute articles needed to be published.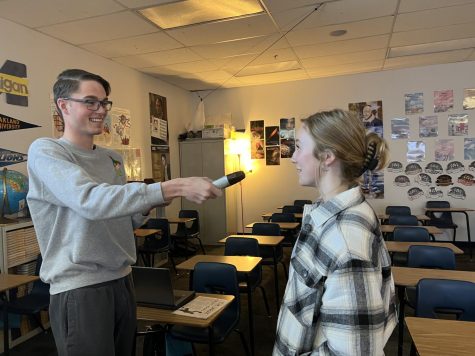 "Whenever anyone emailed me asking for an article to be written right away, I knew that Kale was my 'go to' guy. He always agreed when I said, 'I need this article tomorrow…' and he never really grumbled about it," stated Smith.
Nelson doesn't have any one particular favorite memory of being in The Lariat since every day was pure joy. He did mention that, "I definitely enjoyed being promoted into Journalism II my freshman year with Abigail Duran." That was back when he was young and carefree, before the entire weight of the paper fell on his shoulders.
Nelson encourages anyone who is thinking about getting into journalism, or who would like to improve their writing, to join The Lariat.
"My biggest advice to future journalists for The Lariat would be to never take it for granted. I didn't think it would be that important to me, but now I'm considering pursuing journalism as a career. Also, don't be afraid to get creative and color outside the lines a little," stated Nelson.
Thank you for all you have done for The Lariat, Kale Nelson.