Jones Becomes State Champion
At the Pavilion Center Pool on May 21, Senior Hannah Jones became the 5A swimming state champion for the 500 yard freestyle with a time of 5:05.39. Jones entered into the state meet for the 200 yard freestyle and 500 yard freestyle, coming in 5th and 1st place.
Jones has been swimming ever since she was 8 and from then on didn't stop. She first competed for club team Rebel Aquatics, and then joined the Shadow Ridge swim team upon entering high school.
"
She started out strong as a freshman and has continued to get better every year."
— Jonathan Hillmer
Jones says, "Originally I was put into it because I had too much energy and swimming was an attempt to contain it. Also it was a useful skill to learn."
For an individual sport such as swim, Jones still remains dedicated to her team, even after becoming the state champion. Jones led the team as a captain this year, along with her teammates Carrie Valigura and Luke Ludwig.
Head Swim Coach Jonathan Hillmer says, "Hannah is an exceptionally hard worker.  She has remained humble in spite of her success which makes her an even better athlete and strong leader on the team."
As successful as Jones is, she had to face many obstacles to become state champion and still has much to improve on. Although going to practices every single day for many hours at a time bettered her, she had another challenge to overcome.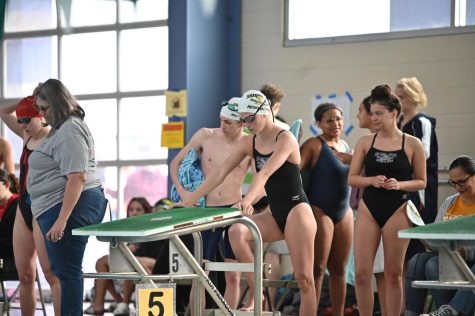 Jones says, "This year I had to focus more on the mental aspect instead of the physical one. Showing up to practice and working hard everyday has contributed to that, but learning how to get out of my own head and just race has been something I had to work and still am in the process of."
Even after winning first place at the state championship for the 500 freestyle, Jones still believes that the most important thing about sports is the basic thing that most people join for.
Jones says, "Some advice I would give to younger swimmers is to have fun. Ultimately this sport is about learning sportsmanship and having fun, so at the end of the day embrace the experience and enjoy it as much as possible."
After graduation, Jones plans on continuing her career as a swimmer at the University of Las Vegas, Nevada. There she will swim at a D1 level and major in kinesiology.