Bruster's real ice cream

Time to scoop into some great ice cream from Bruster's real ice cream, created by Bruce Reed. Brusters originated in Bridgewater, Pennsylvania in 1989. The first and only location first opened on October 3rd. Bruster real ice cream is located at 2862 S Durango, Dr, Las Vegas, NV 89117, their hours of operation are 10 a.m till 10 p.m everyday. 
"Bruster's story starts in 1989 with Bruce Reed, the "Bruce" in Bruster's, and his passion to provide the community with fresh homemade ice cream. And since then, our commitment to deliver premium, small batch ice cream hasn't changed a bit," stated Bruster's real ice cream website.
Bruster's has been a great ice cream parlor for a few decades now and the owner has decided to share his greatness with us and finally debut with a location here in Vegas.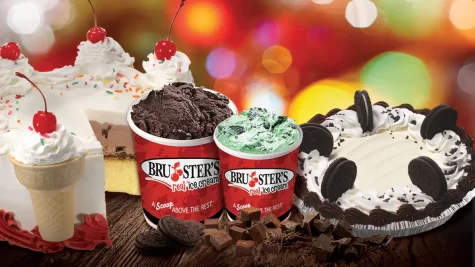 "Drawing from an inventory of 150 ice cream, yogurt, Italian ice, and sorbet flavors, Bruster's intends to feature 24 different options on its menu each day. Served in sundaes, cups, or sugar and cake cones, to-go orders can be packed into pints, quarts, and half-gallons.
Select stores in the kid-friendly chain hand out baby cones to customers less than 40 inches tall and free doggie sundaes for any furry companions," explains Eater Las Vegas.
Bruster's top priority is serving their customers the best ice cream they can and always making sure they are satisfied with whatever they get. The store has many great options to choose from and certain things catered for little ones and furry friends.

Would you try Bruster's real ice cream?
Sorry, there was an error loading this poll.
"Bruster's Ice Cream is made the old-fashioned way, with slow kettle processing designed specifically to create the Bruster's flavor. Because every generous scoop is made in-house—just a few steps from the counter where it's served—it always tastes thick, creamy and fresh. We also serve artisan desserts made to order, including crunchy handmade waffle cones and bowls, customized sundaes, candy-filled blasts, ice cold freezes and thick milkshakes. It's a process that simply makes Bruster's A Scoop Above The Rest," said Bruster's real ice cream website. 
Bruster's has a wide variety of items to pick from and quality is one of their main components they focus on when making their products. Since the quality of their food is so important to them all the ingredients they use to make everything are always fresh and top tier to ensure great flavor. 
If ever near Edna Avenue, Bruster's real ice cream is a great new ice cream parlor to try to satisfy a sweet tooth craving. Their ice cream and all other food items are top tier and great quality.