How Jayden Got his Groove Back
Jayden Barney, senior, has had a very eventful summer leading into his final year at Shadow Ridge High School. Barney has plenty of new and interesting stories to share since the virus hit. He actually spent a lot of the summer up in Idaho, working his first job at his family resort, Jared's Wild Rose Ranch. The main reason he chose to do this was because he was struggling through the quarantine, and he thought leaving would be a good way to take his mind off the subject. On top of this, Barney also went to Montana as soon as he got back from Idaho and to California for Homecoming a few weeks ago. Barney has a ton of cool stories and different experiences that he has learned valuable lessons from. Although Barney has had lots of cool things to do, he's ready for in-person school to come back as soon as possible.
For Barney, working in Idaho not only gave him a lot of experience that he never could've had otherwise, but it also gave him something to help distract from how hard quarantine was. He did a ton of different jobs, and often worked most of the resort by himself.
Barney explained that Jared's Wild Rose Ranch is, "Right on Henry's Lake and about 15 minutes away from Yellowstone. I spent almost three months up there doing all sorts of things like running the front desk, serving people in the restaurant, cleaning rooms, and dumping fish guts out in the lake."
Although he was far from his friends, Barney did not lose touch with them. He continued to contact them throughout quarantine no matter where he was, and that's what kept him sane enough to make it through. Now he can finally see them in person again.
Ethan Aldrich, senior, shared, "Jayden has always been a good friend. While he was gone working for the summer he called me every day to make sure I was doing well."
Despite all the hard things quarantine has put him through, Jayden has learned from his experiences and kept a strong sense of humor to help him get through the tough times.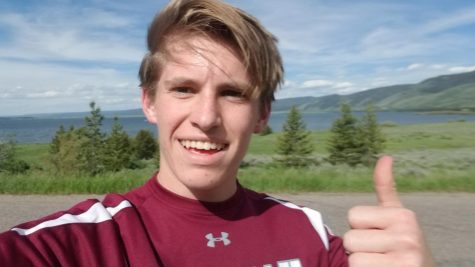 Mrs. Smith, his English teacher, commented, "I love having Jayden in class because he always has his camera on, he always has a smile, and he enjoys participating in whatever we are doing. Jayden also has a great sense of humor and he understands my sarcasm, which is always appreciated!"
Barney has also been keeping on track with his YouTube channel, where he has a lot of fun and just likes to share his joy and his jokes with others.
Barney said, "My YouTube channel is going great. It's become more and more of a hobby the busier I get, but during freshman and sophomore year that was what I spent most of my free time doing. I would get my friends together and make videos. It was a good time. I uploaded a skit compilation a couple weeks ago that was pretty cool to make. I have lots of fun making videos and I hope to continue making videos for the rest of my life."
Barney shared that through all his experiences, one of the most important things he learned was to not give up hope.
"I was having a hard time with the shutdown and quarantine. I really enjoy being with people and to have that ripped away from me was really hard. Being stuck at home with nothing to do was starting to wear on me so I went up to Idaho looking for a change in pace and it was exactly what I was looking for. I was working lots but it helped me kind of forget the stress that being stuck at home was giving me. Once I left for Idaho I just kind of learned to accept that this is the situation we live in. I think we should be back in school and I wholeheartedly want to go back but there's not much I can do about it. Thankfully now I can see my friends and hang out with them as opposed to the beginning of all of this," Barney stated.