It's Getting Hot in Here!
With 384 locations in the U.S. and 2 locations outside, one in Ireland and one in Australia, this new wave of working out takes the world by storm. HOTWORX is a new way to get rid of the toxins within abody and people claim to feel great after. The infrared heat penetrates the body causing the body to sweat.
Have you ever heard of HOTWORX?
Sorry, there was an error loading this poll.
"As the infrared heat penetrates your body causing you to sweat, the isometric postures further accelerate detoxification by physically removing the toxins from your organs through muscle contraction," states hotworx.net.
There are many benefits to infrared workouts. Some of the benefits include weight loss, detoxification, pain relief, relaxation, lower blood pressure, cell health, and anti-aging. Infrared provides all the healthy benefits of natural sunlight without the dangers of solar radiation. The infrared penetrates the skin an inch and half deep, allowing for the pores of the body to open up and release the bad toxins in the form of sweat. 
"The infrared technology is said to reduce the time needed for a warmup and to maximize the calorie burn. It also accelerates workout recovery by strengthening the body's regenerative process. Other added benefits are said to be pain relief, stress reduction, detoxification, lower blood pressure, improved circulation and weight loss, with a continued calorie burn even after the workout is completed," says knoxnews.com.
HOTWORX has 10 saunas that fit up to three people in each one. The workouts range from rowing and bikes to yoga and pilates. The training includes heat that raises the core body temperature and speeds up the metabolism, infrared energy which activates and strengthens the regenerative process in the human body, and exercise which increases heart rate and maximizes calorie burn. 
"HOTWORX is a virtually instructed exercise program created for users to experience the many benefits of infrared heat absorption, while completing a 30-minute Isometric workout or 15-minute High Intensity Interval Training (HIIT) session," explains hotworx.net.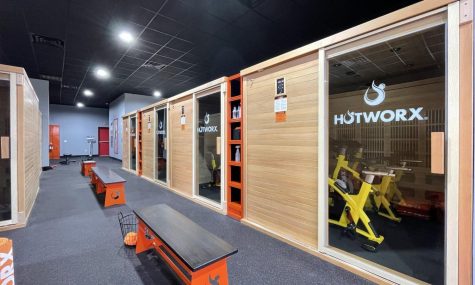 These videos play within the saunas allowing the guests to follow the videos. Along with the saunas, there is a small weight section that allows the guests to continue their workout either before or after they complete the ISO or HIIT sessions. 
Overall, the health benefits that people get after completing the infrared sauna workouts are more significant compared to working out in a regular gym. There are seven locations here in Las Vegas. The newest one opening up around mid-June in the Centennial Hills area.