May The Fores Be With You
Senior, Atley Robison started playing golf two years ago when a friend invited him to the golf course. Robison played golf for four consecutive days which led to Robison's love of golf and earned him a spot on the Shadow Ridge Golf Team. Since Robison started golfing midway through his high school years, he knew he had some "catching up" to do so he played almost every day that summer because he wanted to be the best player he could be. While Robison loved the sport, he had a lot to learn.
He stated, "The hardest skill or wall to jump in golf is the mental side of the game. Golf is basically all mental. You have to learn to trust yourself and know your strengths and weaknesses. It's easy to get frustrated on the course, but you have to move on. If you let one shot get to you, it ruins your mental state along with your entire round. You can't be perfect in golf, I don't think there's such a thing."
"
Golf is a great time to spend with friends and family. So I just hope to continue to enjoy the game and have as much fun as possible."
— Atley Robison
Robison has spent a lot of time this season trying to perfect his swing. He felt as if it "wasn't there" at the beginning of the season so he started from the ground up again and tried to work on the basics. In order to do this, he had to work on the range and play a lot of practice rounds.
Robison is grateful for his time on the golf team and has valued it as an amazing experience. He enjoyed being around his teammates and coaches.
Coach Huesch has provided Robison with wise words while on the golf course and Robison thinks the advice translates to life off of the course as well.
"The best advice Coach Huesch has given me is to "take your medicine." In golf, the bad shots will come. It's how we recover from those bad shots that makes or breaks the round. If you end up in the rocks, it's a lot safer play to punch out and accept your bogey rather than trying to be a hero. Then if you don't pull off the hero shot you could end up with a double or worse, which really hurts the team. I think I like this advice because it can be applied to life to. Sometimes you just have to take the little loss rather than trying to be the hero and compounding your mistakes," explained Robison.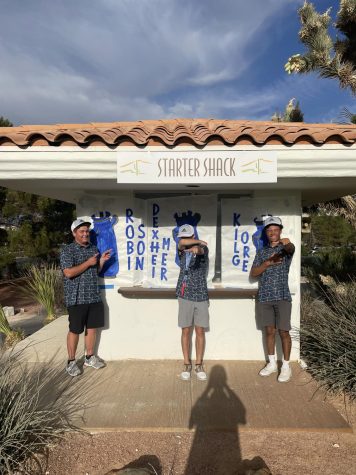 Robison admires famous golfer, Collin Morikawa, who has "great control with his irons and his swing is beautiful," according to Robison. Robison spends time watching Morikawa's videos to help him improve technique. This will come in handy since Robison does plan on playing golf for the rest of his life, although he isn't going to play competivitely in college.
Robison keeps a great sense of humor about the sport as well, admitting to losing more golf balls than he would like to admit.
"I have lost so many golf balls. I wouldn't even be able to give an accurate guess. It doesn't help that we play in Vegas so when you hit your ball bad it goes in the dirt and bushes, which makes it even harder to spot a ball. When I play a round of golf, I am more proud of myself if I don't lose a ball than if I shoot a good score," stated Robison.
Robison has gone to Top Golf a few times but claims the venue is "rigged."
"It's a lot of fun, I've only been a couple times, but you can't hit your best shots there," stated Robison.  "I always feel like I'm going to throw the club. I'm making excuses but Top Golf is fun."