Off The Blocks: Track and Field 4A Regional Champions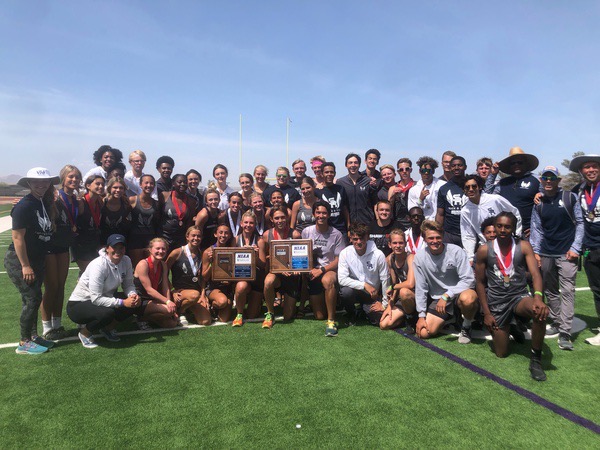 Last weekend, both of Shadow's Men's and Women's Track and Field Teams took home regional titles. This accomplishment now makes the Women's Track and Field Team back to back regional champions. Not to be outdone by the girls, the Men's Track and Field Team won their second regional title in Shadow Ridge history.
Head Coach, Mike Smith, was especially proud of his athletes stating, "Schools and programs hope to just win one championship. My athletes were able to bring two in the same day! It's exciting to see all their hard work pay off and walk off the track knowing that what they started 4 months ago (some 4 years ago) helped them to this one moment in time."
Sophomore, Jack Monson, who took an impressive 3rd in the high jump was equally thrilled with the men's victory.
"The most exciting thing about winning regionals was that for the boys, we didn't have as good of a chance at winning as the girls, so when we won by such a big lead it really put into perspective how hard all of us were working that day," stated Monson.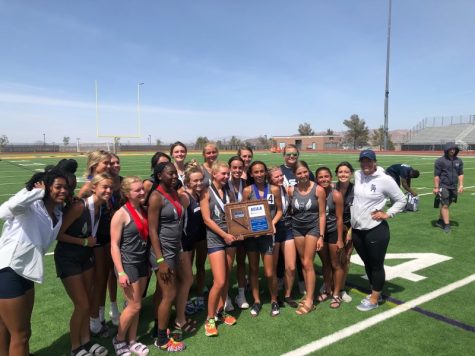 Currently, the athletes are working on fine tuning and staying warmed up for the state competition that will be held from 8-5 on Saturday, May 14th at Liberty High School.
Coach Smith said, "At this point the athletes are fine tuning their events. Working on the little things that in the long run makes a big difference. Making sure their steps are on, hand offs are perfect, effort is at an all time high."
Mental toughness is one aspect that the team is working on as well. Monson has also been focusing on that for the state meet this weekend. He also offers great advice to help his teammates mentally prepare for the task at hand.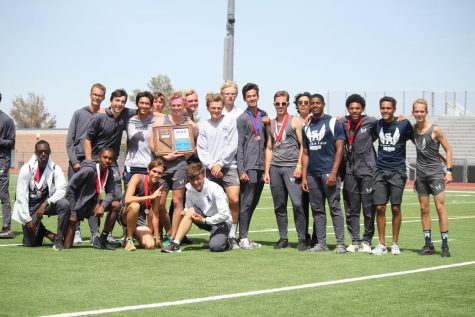 "My best advice for anyone nervous about the state meet is to just reflect on the season. Think about every hard workout that you've been through and the countless hours you've practiced. This is what you have been training for and you are more prepared than you think you are," stated Monson.
Smith is continually reminding the team that the hardest part is already done and, "All the sweat, tears, blood, and puke has been for this one moment in time. Athletes all over the nation hope to make it to state. These athletes actually get to compete. Go in confident and know all your training is going to pay off."
Junior Ella Dyer, who will be competing at state in the 800M, agrees with both Smith and Monson about staying tough mentally going into the State Championship.
"I am continuing to work hard at practice and maintaining a positive mindset," Dyer stated.  "I felt confident going into the regional meet, I knew exactly what I needed to do. I want my teammates to run their races and be confident in their places and times."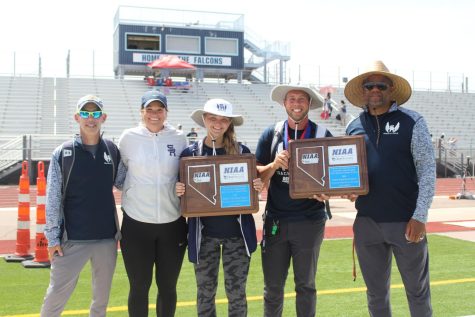 Although the track and field program as a whole is pretty large, they still think of themselves as a tight knit family who pushes each other to be their best as a team and Coach Smith couldn't be prouder of all they have already accomplished this year.
Smith states, "We did this all for the team as a whole. There is so much more to track and field than people realize. These are the hardest working athletes on campus by far. They work until their bodies are literally about to quit. They do this so they can help the team succeed. To be the ones at the end to hold up the trophy. To be the ones who would do everything and anything for the person next them and know they will be getting the same treatment from their teammates. To me that's more important than any title. We just happened to pick up two titles on the way to the finish line."