Time for a Dennis Appointment
The Shadow Ridge track team has a huge amount of talent and has worked very hard to shape themselves into the team they are today. While all members of the team have been involved in this effort, very few have faced as much adversity as Dennis Speaks, senior captain, and even fewer have excelled through it. Speaks has been on one of the most inspirational journeys through his career as a high school runner. Speaks was originally a soccer player, only running up and down the field the first half of his freshman year. However, during track season, later that year, he made a decision that would change his life. Deciding to run track thrust Speaks into the running community and he began to grow extremely successful, showing off great potential. Unfortunately, at the end of his sophomore track season, he was plagued by a horrible injury to the hip that required surgery and resulted in a six-month recovery process before he could return to his full potential. Since that struggle, though, the avid runner has risen from the ashes and emerged as a raging phoenix, tearing through a triumphant cross country season and leading the team to state. Now, drawing to the conclusion of his final high school season, Speaks would love to go out with a bang.
This track season, Speaks has qualified in the 800, 1600, and 3200, and is prepared to compete in several events at the upcoming state race. Speaks has been mostly focused on the 800 this year and currently holds a 2:05.
"
I have a very competitive mindset. I want to be the best in every aspect of my life."
— Dennis Speaks
"I'll never be satisfied with my time. I know I can always keep improving. No matter how good I become, I'll always be looking to catch the next guy in front of me. That's how I get better," Speaks explained.
He always plans to keep striving for better times. Speaks, though, does more than just race. He leads the team as one of their captains, making sure that the next generation of students are ready to take over when he passes the torch.
"I've really enjoyed being a captain and being able to lead the underclassmen and guide them through their first year or two of track," Speaks shared.
This hard work to inspire others doesn't go unnoticed. He serves as both an example and mentor to all those on the team.
Ryan Stevens, junior, commented, "Dennis is always the first to start and the last to stop. He leads the team by running right beside us. He focuses not only on how to improve himself, but also does his best to improve the team as a whole."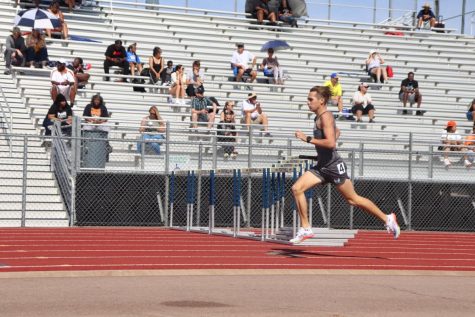 Speaks has made a great impression on his teammates, but he has also had a visible impact taking some of the pressure off of the coaches.
Coach Smith said, "Dennis is a very impressive athlete. He is one of the core pieces for the foundation of the track team. Dennis loves to push the limits in our training, which makes him one of the best in our region. Being competitive and level-headed makes him a great captain. The younger athletes look up to him and he is somebody that the team members can rely on. Once he graduates this year, it will be a tough role to replace."
Speaks will be moving on to CSN, where he will continue his running career at the college level. He will be greatly missed by not only the track program, but all of Shadow Ridge.