Netflix is Falling Down?
Netflix practically invented the subscription streaming service and they have been at the top of the market for years. However, lately, Netflix has been on decline. Netflix has already lost 200,000 subscribers in the first quarter of 2022. Their stock price has dropped by 22%.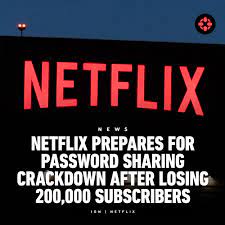 Netflix themselves say account sharing is the reason they are losing so much money. According to EarlyGame, Netflix says "our relatively high household penetration – when including the large number of households sharing accounts – combined with competition, is creating revenue growth headwinds."
Netflix is trying to prohibit account sharing. "According to EarlyGame "Netflix is officially threatening users that they will take down accounts that share their password with family and friends outside of the household. Apparently, new password features will make this process automatic." It's said that Netflix will first start this change in Chile. 
There are a few reasons for Netflix losing subscribers.  For one, the content. With all the new streaming services, Netflix has been losing the classics that people like to watch. For example, The Office, which has been gone for a while was removed from Netflix and began streaming on another service. Many people left Netflix when they lost The Office. The same has been happening with many other shows. 
Netflix's increase in prices is another reason why people have canceled their subscriptions. People don't want to pay for what they believe is less valuse, especially when they already paid a cheaper price. It feels like being cheated And when people are on a budget, the first thing they are going to cut out is Netflix, after all its content is declining and there is no use for it anymore. 
Of course, there are Shadow Ridge students who have opinions on the matter regarding Netflix. Junior Vhea Velayo has expressed one. "It's not surprising, considering platforms such as HBO Max (and) Disney+ (are) becoming a big thing" says Velayo. "But Netflix's losing subscribers is as much of a big deal since this hasn't happened (in) over a decade. But it makes sense because of the cancellation of shows."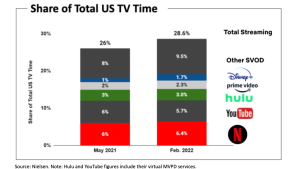 In a letter to its shareholders, Netflix wrote "the US dollar has strengthened meaningfully against most other currencies. With ~60% of our revenue outside of the US due to our international success, we estimate that the US dollar's appreciation over the past six months has cost us roughly $1 billion in expected 2022 revenue" alluding to another reason why Netflix is losing revenue. 
Whether or not Netflix will make a comeback is unseen, but one can make a prediction.
Do you watch Netflix?
Sorry, there was an error loading this poll.