Best 4×8 in the State
Being a great athlete is difficult, but being number one in the state is even harder. Here at Shadow Ridge High School, a team of four girls currently sit at the top of the leaderboard, in the state, for the 4×800 relay times. While leading the state makes them the prime target in upcoming races, if they can manage to keep up their amazing work, they can most definitely come home with one final win for the season. Combined with raw talent, their hard work and persistence will help them to retain their spot at the top. The team, featuring seniors, Alexis Abney and Isabella Stosich, junior, Ella Dyer, and sophomore, Leah Okuda, conquered their rival, Centennial, to win the Skyhawk Invitational with a 9:56.17. Not only does this mean that the team managed to take the top spot in the state, but it also means that the girls hold the fastest time in Shadow Ridge history, placing over the 2009 Mustang track team.
Although Coach Smith knows that people will step up and fill in once his seniors are gone, athletes like Stosich and Abney are rare, and now is the perfect time to seize this opportunity to take state.
"
Congratulations to these amazing young ladies! I'm so proud of them!"
— Coach Smith
Okuda shared, "I'm elated and crazy proud of the 4×8 team. I think it's awesome what you can do when you work hard and believe in each other. I'm personally nervous about state, but we have an amazing team and I think we have a pretty good chance at winning."
It took a lot of work to get to the point they're at today, with all of them having participated in multiple seasons of track and field to prepare for this kind of competition.
"I feel like we each knew we had to do our absolute best in order to break the record so we worked hard during practices and in the race we just RAN as fast as we could," Abney explained.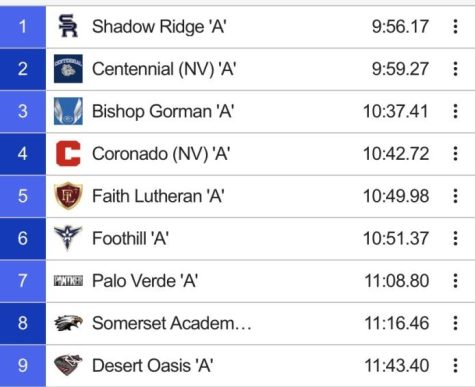 To take home the gold, the racers will have to be on their A game the next couple weeks. These are the last couple weeks for some of them and only the beginning for others, but one thing they all have in common is that they've truly made the Mustang community proud.
"I think our efforts and hard work in practice showed in our performance at the meet and this is just going to fuel us to work even harder practicing so we can do it again at state," Dyer added.
While they're proud of their accomplishment, the runners are far from satisfied with their taste of success. The team wants to take it all.
Ambitiously, Stosich said, "I'm still practicing and improving. We haven't won state yet. The work isn't done."