Senior Grad Trip 2022
Shadow Ridge's High School senior class of 2022 will be attending their Grad Nite at Six Flags Magic Mountain. This event will be held on Friday, May 13th. Students will leave the school at 4:00 p.m. and will arrive at Six Flags Magic Mountain by 9:00 p.m. Then, when they are returning to Shadow, they will leave Six Flags at 4:00 a.m. and arrive back at SRHS by 9:00 a.m. the following morning.  Tickets were sold on March 30th, 2022 at 6:00 only, due to it being first-come, first-served. Students who wanted to attend were required to complete a packet that gave all of the information about the trip. The cost of the trip was $180.00, this includes transportation to and from Six Flags, a Grad Nite t-shirt, a lanyard, and a backpack. It is also an annual ticket, which means it is valid for the whole year. Any food or miscellaneous purchases will be an additional cost to the student. 
"
The feeling of being at an amusement park is untouchable."
— Symone Moore
The limit for the students that were to go on the trip was 200. The students who are going on the trip had to be on track to graduate, not been placed on suspension during the 2021-2022 school year, have all of their school fines cleared through the school banker and librarian, have no more than 7 unexcused absences or truancies in any one class during the second semester, must download the GroupMe app and join the SRHS Grad Nite 2022 group, and adhere to all CCSD and Six Flags Magic Mountain travel and COVID-19 protocols. Although, payment does not guarantee participation in Grad Nite and is at the discretion of the administration. No refunds will be given. Students are required to use the clear backpacks they will be given, and CCSD officers and K-9s will assist chaperones with the school's inspection procedures. 
Senior, Symone Moore is one of the students who will be going on the senior trip. She is very excited that it is somewhere where everyone can be a part of.
"I know that even though not everyone likes roller coasters, this will be fun," Moore explains.
She has been to Six Flags before, but it has been years since the last time she went.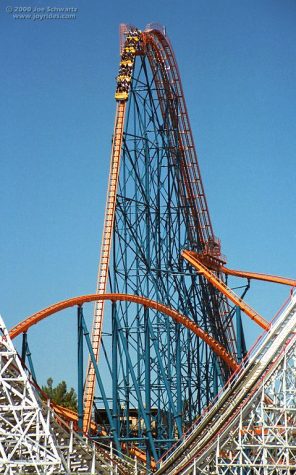 She plans on going with a few of her friends from her culinary class, but if they don't go then she will go with a different group. The ride that she is the most excited about is  Goliath and Batman. When she went to Six Flags years ago, she only went on one ride, so she's excited for the opportunity to check out different rides at the park.
"I love roller coasters. I used to be afraid at first but the first time I rode a roller coaster was at Six Flags. So I'm excited to ride some more rides and create more memories," says Moore.
Matthew Boughter is another senior who will be attending the trip. He has never been to Six Flags but has gone to other parks like Disneyland and Knotts Berry Farm, so he's excited to go. He will be going with some of his friends and is most excited about going on the ride Viper. He isn't a big fan of roller coasters but thinks that it's nice to try something new.
"I'm probably going to freak out, but that's part of the fun," states Boughter. 
If any students have any questions about the trip they can feel free to contact Ms. Robertson in the library.