UNLV Solo and Ensemble Festival
This Thursday, March 31st, the Shadow Stampede took to the stage on the famous Ham Hall at the University of Nevada, Las Vegas! They danced their hearts out in the annual "Solo and Emsemble Festival," and here is how it went.
The dance, "Come Along" by Cosmo Sheldrake, was choerographed by none other than the dance teacher, Ms. Breckenridge, but another dance teacher known to the dance team as Ms. Jackie, and even some of the dancers themselves. They all worked hard to get the dance together, finishing it merely two days before performing it in the Ham Hall stage. Each dancer had a specific role to play in the dance, the performance being loosely based on the movie "Alice in Wonderland," but with fairies instead. The dance overall took close to two weeks to prepare, including story line, choreography, costuming, and cleaning.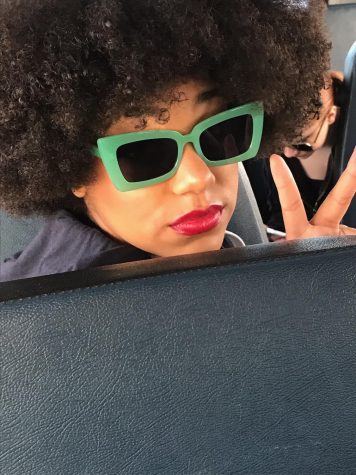 The team started off at Shadow bright and early at 6:30. From there they traveled to UNLV to prepare and perform their dance on the big for the first time. They would be performing again later that day, but this was their first impression on the judges.

"I personally thought it was a bit nerve wracking at first," says freshman Kayla Villacreses. "But then I enjoyed taking the time to space out and confirm things for our dance, and I believe we will do great tonight!"

"

It was mesmerizing. The dance told a beautiful vivid story and all of the dancers did an amazing job expressing that story."

— Savannah Wagner

"It was super exciting, yet nerve wracking just because of the amount of seats in front of us was way more than  we usually are used to," says sophmore, Alexis Ayento. "But it went through pretty well and we are going to do amazing on that stage!!"

"I might have felt nervous at first, but it was such a cool experience being up on that stage. It was like nothing else mattered at the moment but the dance, and I know we will do so great tonight and be able to show how hard we worked to get this far!" said freshman Jada Hennington.

All of the dance team members expressed their excitement for their performance later that evening.

"I'm excited to perform for my friends and family and show off out hard work," said junior, Camryn Moore.

The official show started at 6:30 that same day, and the team headed back stage and got into their costumes after cheering on a few other dances first. Despite having roughly 20 minutes on stage a few hours before, the group did amazing! They danced up and down the stage and received many compliments, which were much deserved, as they did awesome!

"Honestly I couldn't really believe it was real, but as a whole, once we put our hard work onto that stage, we definitely killed it!" said Ayento. Overall, the team did amazing, and should be proud of all of their hard work!

Ms. Breckinridge