Suiting Up for Fridays
There were slick shoes tapping against the hard concrete floor. A sleek suit encompassed a stylish shirt and tie. Stunning dark colors flashed through the hallway when students caught a glimpse of him. Yet, while most saw this mysteriously well-dressed man as a fashion icon, some gave the impression that he should turn away from his luxurious wardrobe, encouraging a more "chill" way of dressing so as to avoid seeming serious. Mr. Gilmore, one of Shadow Ridge's assistant principals, recently made a dramatic change and began to dress down on a daily basis. This being uncommon for him, students immediately noticed and knew something suspicious was in the works. As a way of keeping his fancy attire in the rotation, "Fancy Fridays" have been created.
"
Everyone can be included. I would love to see all students and staff take a day to dress their best and represent. Any student, any staff is welcome to join me for Fancy Friday."
— Mr. Gilmore
On Fancy Fridays, anybody is welcome to wear spiffy apparel without any kind of judgment from anybody. Nobody can tell Gilmore that he is too serious when he's dressed up on a Fancy Friday, so it's a great opportunity for him and anybody else to show off.
"I have spent a lot of time reflecting this year. Part of my reflections have led me to focus on the concepts of being humble and approachable. In an effort to achieve this, I adjusted my wardrobe," Gilmore explained.
However, the outrage was immediate for some students, seeing as he entirely scrapped his distinctive garb.
Ruby Cervantes, senior, questioned, "What? Didn't Mr. Gilmore used to wear suits all the time?" Fellow senior, Isabella Padilla, added, "One day, we noticed Gilmore walking around with a suit on and we asked him right away."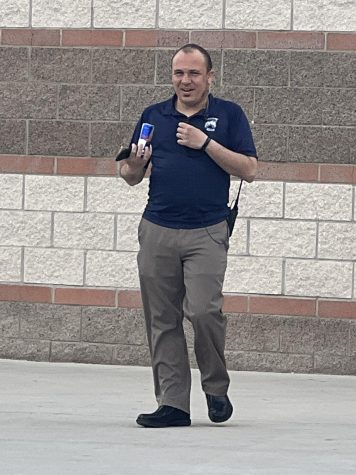 After speaking with Gilmore, the two students shared that they actually liked seeing his professional dress and wished he would bring it back for at least a little while. Gilmore was glad to bring back the trendy fashion, as wearing suits is something that puts his mind at ease.
Gilmore elaborated, "I enjoy wearing suits mostly because it has made me feel comfortable. I have often thought of my suits as "shields." Having this "shield" on helps me feel comfortable in many situations. I find presentation important. I also want to be a model of presentation to the students. Perception is key in many situations, especially professional ones."