DCM Hosted by Shadow Ridge!
On March 16th, last Wednesday, district 28 west's Division Council Meeting (DCM) was hosted by Shadow Ridge. At Division Council Meetings, Key Clubs from all of our district's schools come together to share what they've been working on. It's a chance to celebrate each club's accomplishments and highlight specific members who've been exceeding expectations. The DCM was also a way for the districts new Lieutenant Governor, Ann Margaret De Guzman, to start her job. Guzman gave a speech and helped to host and prepare for the meeting.
"The purpose of the DCM is to showcase what your school has and to show the strength of your club. I've been to all the DCM's so far, and Shadow Ridge has had the biggest turnout of students. We had twenty to thirty people here, and that's a lot for a DCM" explains Mr. Malcolm, a Key Club advisor. 
Another thing that was announced at the District Council Meeting was advisor of the month, which was given to Mr. Malcom.
"My experience was good because I won advisor of the month, so I was surprised and excited!" says Malcolm. "It went as well as I expected. I do wish there were more schools, but it is towards the end of the year so people are getting tired. Either way we were excited to showcase what Shadow Ridge had to offer."
Preparing for the DCM was also a fun experience for Key Club. Key Clubbers came early to decorate the library with balloons and streamers. The theme was Saint Patrick's Day, so there was gold and green everywhere, and chocolate coins handed out to everyone. Everyone who attended also got free Matcha Boba Tea from Sharetea.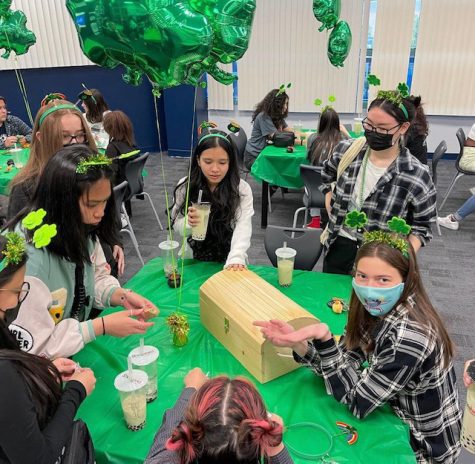 "A lot of the members came to help out with setting up the event," says Savana Chalmers, junior. "Everyone had their own job to make the Key Club members of other schools feel welcome." 
Overall, the District Council Meeting was a huge success for Shadow Ridge.
"The event was very fun. It was nice to see what events the other key clubs had planned, and what they were up to. There was even a gift card giveaway to make it more fun!" says Chalmers.