Under New Management
With Shadow Ridge High School's Track and Field Team being such a huge group, sometimes it's difficult to make sure everything is running smoothly and under control. There are several ways to try to make sure that the giant moving machine of track and field is well oiled, including captains to lead their teammates and coaches plan the workouts and races. However, with so many different tasks going on at once somebody needs to do the most important task of all; take attendance. That person is Liz Ferre. While one of Ferre's tasks actually is taking attendance, she still does so much more than that to support the team. Ferre, one of the team's official managers, was a member of the track team her first three years of high school. This year, though, after she finished her last of four cross country seasons, Ferre decided she needed to step back. Still wanting to be part of the team without racing, Ferre decided managing would be the best way to go.
As a manager, Ferre keeps track of who's at practice on a day-to-day basis to make sure they'll be allowed to race when the time comes. She also attentively watches kids form and uses her knowledge and experience in track to keep them running properly.
"
Where would we be without attendance?
— Liz Ferre
Ferre explained, "I wanted to be a part of the team and involved in a different way this year."
Ferre sticking around has made a huge influence on the track team, boosting morale and easing the burden on the team's leaders.
"Liz has always been a great motivator and friend. She always listens and is a great mentor. As a manager she is basically an extra coach. It's hard to coach over 200 kids with only a few coaches, so Liz helps them manage. She wants everyone to reach their full potential," Ellie Reese, one of the team's senior captains, shared.
It's not only the kids that notice the difference Ferre makes. The coaches do too. Coach Flynn has coached her in cross country as well as track and field through all four years of high school and has developed a gratitude for her positive attitude.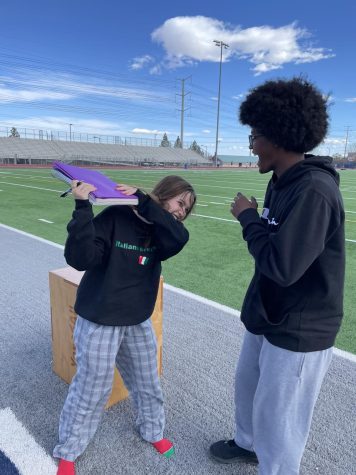 Flynn stated, "One of the big things for a manager is to be somebody who the coaches can depend on and rely on to make our job easier and Liz is definitely somebody who does more than just attendance. I know we can turn to her and say we need you to these things and it'll get done."
Ferre really enjoys being a part of the track program and loves all of the things it stands for.
She jokingly said her favorite part of switching to manager is that now she gets to "Watch them suffer." However, she also loves "Watching them get better and beat their personal records."
Although Ferre is a senior and plans to leave for Provo soon, she is still happily making the most of her time here and actively participating as a member of the Mustang community.
"Track is more than just a sport. It's a group of people working together to help each other accomplish their goals. As manager, it's my job to make sure that they have someone cheering them on for the work that they have put in and to ensure that all the behind-the-scenes work runs smoothly so that all they have to worry about is doing their best," Ferre said.