Sweet 16 Cinderella Story
Saint Peter's University is a private Jesuit University in Jersey City, New Jersey. It was founded as Saint Peter's College in 1872 by the Society of Jesus. The University offers over 60 undergraduate and graduate programs to more than 2,600 undergraduate and 800 graduate students. Nobody would ever think this team would go on to pull off one of the biggest upsets in March Madness history, let alone get a bid to the sweet 16 by beating a number 2 seed and a number 6 seed to get there.
Saint Peter's 1st test was Kentucky,  AP news analyst Christa Kelly said, ¨Everyone was buzzing about tiny Saint Peter's University on Friday after its stunning NCAA Tournament upset of Kentucky, except maybe Saint Peter's University. Sure, students and staff were savoring the No. 15 seed Peacocks' 85-79 overtime win. But Fridays are typically quiet on the Jersey City, New Jersey, campus, and that was unchanged even after the feat that destroyed untold numbers of tournament brackets showing second-seeded Kentucky in the winner's box. It wasn't that way Thursday night, when a watch party drew a big crowd, Kaylie Morris, a junior majoring in biology, said. The 150-year-old Jesuit school isn't generally known as a rabid basketball school — at least it wasn't as the Peacocks headed into their fourth appearance in the tournament since the 2010-11 season. This was the Metro Atlantic Athletic Conference champion's first NCAA tournament win."
For Kentucky to lose to a small school like this is very crazy because of the amount of money they spend on their basketball program.
St. Peters matched up against Murray State another school that was a 6 seed and ranked number 24 in the nation. CBS sports analyst Adam Archuleta said, "No. 15 seed Saint Peter's knocks out No. 7 Murray State, reaches its first NCAA Tournament Sweet 16. Saint Peter's isn't done with its storybook run. The Peacocks proved they're far from a one-hit wonder, upsetting Murray State 70-60 in the NCAA Tournament's second round to reach the school's first-ever Sweet 16."
Saint Peters was very outmatched physically in this game but not mentally it was the mental side of the game that won them the game against Murray State.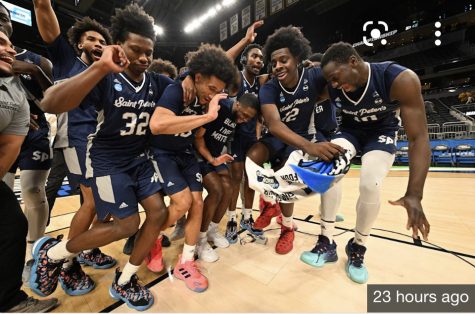 Sophomore Jeremiah Campbell said,"  Saint Peters run so far has been very fun to watch they play like they have nothing to lose each and every game and that's why they pulled off one of the greatest upsets of all time."
Campbell is happy for Saint Peters but at the same time mad because Saint Peters is the reason his bracket is busted as he had Kentucky going all the way to the finals.
Saint Peters run has been great but they hope it's not over yet. They will play Purdue on Friday, March 25th, hoping to earn them a spot in the NCAA Elite 8.  Purdue is a very tough team with a lot of size so that will make it hard for Saint Peters to compete.
Purdue or Saint Peters
Sorry, there was an error loading this poll.