Women's Flag Football State Champions
Shadow Ridge High School is home to many incredibly talented students across a wide array of disciplines. Shadow has always been a step above the rest, especially when it comes to athletics. The Women's Flag Football Team is one of many teams that has set the tone for Mustang excellence throughout past years, giving rise to amazing players that have gone on to play at the collegiate level. This year the team has proven once again that the Mustangs are a force to be reckoned with.
The ladies of Shadows Ridge's Varsity Flag Football Team worked hard all season long to improve their playing and surpass the success of past teams. The work and dedication paid off in Shadow's Championship game when they went head to head with the Green Valley Gators winning 34-14. 
Senior Breiana Bonkavitch says, "[Winning the championship] means everything to me, that all the hard work paid off and we set the tone for 5A flag football in NV."
"
My favorite memory this year was the times my team and I would go out to eat after practice or just hang out on the weekends. Just any team bonding, in general, was my favorite memory. "
— Makayla Lucas
It wasn't just the team's athletic abilities that got them to the championship, it was their comradery and teamwork that really set them ahead. The girls worked together this season to build up their trust in one another, have each other's backs, and play as a team. Having skillful players means nothing if they can't all work together and add to each other's strengths.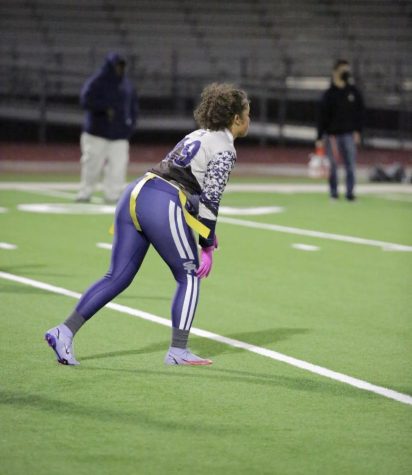 "I think I grew as a player by really learning how to trust my teammates in game situations and to be more of a team player," says junior Makayla Lucas.
Bonkavitch adds to this saying, " I grew [this season] by learning from my teammates about trusting one another and knowing that we will be okay."
Not only is the flag team great comrades on the field but they are also incredibly close off the field as well. Being able to work hard together as a team was heavily fueled by the fact that they have grown to be great friends. Many of the girls find the friendships they've made on the team to be one of the biggest takeaways from the season.
Senior Riyana Johnson shares, "I am really going to miss the girls on this team. It was my first year playing and I didn't know anyone and they really took me in and treated me so kindly. I'm going to miss all the laughs we had during practice, on the bus, and during the game."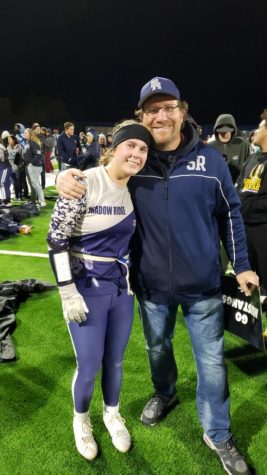 Of course, no team would be complete without the amazing coaching staff. Head Coach Matthew Nighswonger as well as the amazing assistant coaches really helped the girls improve throughout the season and were their biggest supporters. Win or lose the coaches always had the girl's backs and according to Johnson "always had such positive attitudes which helped keep us motivated." The coaches put in tons of effort to help the girls improve their skills and form an incredibly successful team.
Coach Nighswonger says, "There are a ton of great emotions that go with winning a state championship. One of the best is satisfaction with a job completed on top. But, the ultimate is coming back from COVID and giving these student-athletes an amazing experience, one that they will remember for the rest of their lives. They are always state champs! I'm so happy we can send the class of '22 out as champs!"