Run for a Cause
October is Breast Cancer Awareness Month, but it got deluded in the pink wash. The term 'pinkwashing' is associated with companies that use the pink ribbon symbol or use the support of breast cancer charities as a marketing technique to promote one of their products linked to the disease.
This month, Shadow Ridge High School is raising breast cancer awareness and donations for Susan G Komen Nevada, a local breast care helpline for women in the Las Vegas community. 
This event is a Virtual Run/Walk for either a 5k or 1 mile that is open to Shadow Ridge Mustangs and anyone in the community. Anyone who wants to participate in this event needs to sign-up at http://bit.ly/SRRaceSignUp by October 31st.  
Mrs. Gibo, Student Council Advisor, implored, "We are asking for donations of $5.00 or more and those who donate will receive an SRHS Race sticker that looks great on a Hydro. All the proceeds will go to Susan G Komen of Nevada."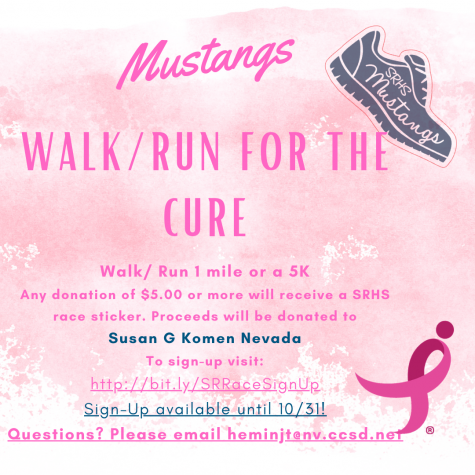 The foundation offers help to those who need financing during treatment.
"For a while, many felt that the money should be spent on research. However, a friend of mine saw with her own eyes the benefits and help that Susan G Komen has done," Mrs. Gibo shares.
The donations will help those in Nevada with their needs and expenses when they need it the most. It will help with medical bills, finances, and other types of equipment that are useful to the facility for treating people. 
"This pink movement does help awareness, and it honors those who are fighting the battle," Mrs. Gibo added.
Some of the Student Council members have known or lost someone to the disease, and they felt it was valuable to bring such awareness.
As mentioned above, the wearing of pink and promoting awareness, if done correctly and with good intentions, encourages early screening. The point is to bring awareness and advocacy to breast cancer. The fact is, there is a vast discrepancy in the quality of care for those in rural communities and those in cities. There is also a vast disparity between care for women of color. Men can also get breast cancer. It is essential to promote awareness and understanding of this disease. 
This run is based on an honor system. Participants can run or walk a 5k or 1 mile on their own time to participate, and Student Council encourages those who participate to send in pictures of their race experience and pink attire to @srmustangs4life on Instagram or use the tag #mustangs4life in their post.