The Indigenous Student Association Club
The Indigenous Student Association (also known as the ISA) is a diverse club where all members come from different backgrounds and have different cultural traditions. Senior, Mckinley McPherson started this club in December because she wanted to create a space where Native and Indigenous youth could grow their relationship with or learn more about their culture.
"There is very little for the Indigenous youth in terms of clubs and activities around the schools, especially if you aren't signed up with certain programs outside of school. School should be a place where everyone feels represented and I wanted to make that possible," states McPherson.
She was able to form this club by approaching Della Frank, their advisor, about starting the club. She explained her reasons for wanting to make this a club and she was immediately intrigued and on board; as they have been pushing for a while to get more students involved in starting their own programs at the schools. Originally, the club was named NASA which stands for Native American Student Association, but they wanted to change that to Indigenous to create a more inclusive space, and to teach others that to be of Native descent does not always mean they are from America. It stems from South America, Canada and many other countries too.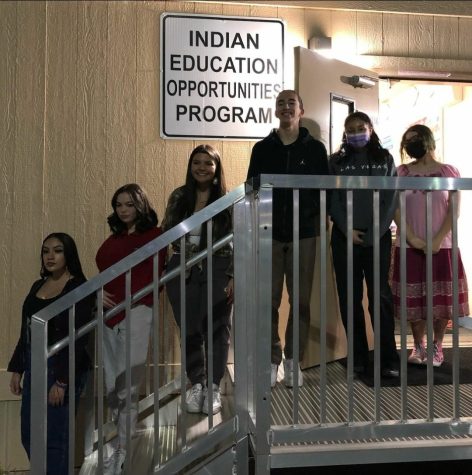 Her favorite thing about the ISA is the diversity they have. All of them come from different tribes around the world yet share similar struggles and views. They all have many things to offer in a variety of ways and work together as a team to make sure everyone who has an idea gets theirs out there. They are trying to spread the message that they are still here.
"Indigenous people still very much exist today and we are as resilient as ever. We want to advocate for the people who don't get opportunities that we do, and for those whose voices do not get as much of a platform. We want to educate those who aren't familiar with our culture and share with other Indigenous students that they do have a place with people like them," says McPherson.
Something that makes this club memorable is how many of them plan to continue to advocate for the Indigenous community after high school.
"We did not want to limit ourselves to Shadow Ridge students or make it a high school only based club, since we are one of the few who get the opportunity to begin with to have something like this. We wanted to give other students a chance too. We are all very lucky to have such great outlets of support around us from fellow Indigenous people in the community, and to get to participate in the events we have," McPherson explains.
From Shadow, there are around 8 students who are in the club, but in total there are 10 students, some who come from neighboring high schools. She describes the club as small but mighty. Each member has a powerful voice behind them and it is a goal of theirs to make them heard.
"I would definitely say we are a force to be reckoned with, as we are a group filled with inspirational and powerful minds," says McPherson.
"
Each member has a powerful voice behind them and it is a goal of ours to make them heard. We are resilient, should not be seen as second class citizens, and have so much to offer to the community. "
— McKinley McPherson
Junior, Dyanara Ramirez is one of the members of this club. What led her to joining the club was Southern Native representation.
"I am an Indigenous Mexican. I don't think we are acknowledged as indigenous people very often and a lot of us don't know that we are (which is not our fault) so it is important for me to represent diversity within indigenous identities and backgrounds," Ramirez explains.
She has been in the club around four months but would talk to Mckinley about ideas for the club a bit before the club iniciated.
She doesn't think the school system is educating kids the way they should be. She thinks that the Indigineous representation of the club is what makes it memorable.
"It's important for us to be culturally aware and for us to feel comfortable and proud to embrace it. Representation matters and that's what the ISA is fighting for. They only mention us here and there, so for us to unite and try to put ourselves out there and embrace our identities is a big deal," states Ramirez.
So far, they have Google Meet meetings every Friday, and will soon be having in person meetings as regularly as they can at the Indian Education office. They recently did a clothing drive event, and will take part in the Meshika New Year event this Saturday March 12, 2022. McPherson will sell her beadwork there. There is a drum making activity on March 18th and they will also be participating in the Youth Powwow at UNLV on April 23rd. Ramirez will be doing a craft booth, teaching people how to make Ojos De Dios (Eyes of God). The rest of the members will be participating as well.
Something that has been extremely frustrating for them is the lack of support that they have received from school.
"For months, since fall, we have been emailing and calling to spread word of our club and events, only for very little response. I feel we have struggled with being seen. Something that also has been a challenge is that we are so young and driven, some people have managed to take advantage of our want to help to use it for their advantage. Being young, people think you're impressionable and naive, which is a barrier we want to break," says McPherson.
In order to be eligible to join, students have to be respectful of Indigenous culture and recognize the animosities their community faces both historically and modernly.
"You do not have to be Indigenous to join, all we ask is that you stay consistent in your participation," states Ramirez.