Take Action and Become an Activist!
Shadow Ridge has a variety of different clubs for students to take part in, but one that was made a couple of months after this school year started is the Women's Activist Club. Junior, Zaylene Edmonds was the person who started this club because she felt that it needed to be done.
"I want people to have a safe place where they can truly be themselves while at the same time making a difference for what they stand for. Women in today's world need to be empowered all around the world. Coming out from quarantine for so long, I felt as if teenagers were in the midst of losing themselves, people needed to be heard, people needed a safe space to express themselves, and I wanted to make that happen," Edmonds explains.
Meetings for this club are usually held on Mondays as well as Fridays, however, they are working to change days to Wednesdays so more people can attend. Around 35 to 45 people are involved, but on the days that everyone can make it, there are around 50 participants. The Women's Activist Club spreads the word about empowering women. They want to have fundraisers and help people find themselves while trying to create a comfortable environment. In addition, they want people in the community to know that they are heard and that they matter. Although they weren't able to have fundraisers, they decorated clothespins with affirmations and pinned them on people's backpacks around school, and they also put affirmations on posters and hung them around campus (mostly in bathrooms).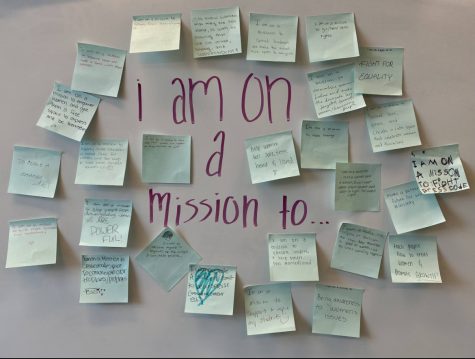 "While being in this club, I have learned a number of things. Not only have I learned that there are definitely other people out there with the same motive and drive that I have but I learned that there are people who just need a little support for them to come out of their comfort zone," says Edmonds.
Interacting with so many different people has shown her that everyone is outstandingly unique in so many ways. Every single individual in the Women Activist Club has their own amazing talent and the more she interacts with them, the more she can better understand them and their talents. Being in this club has taught her that people can do big things with just a little support and motivation from the ones around them.  
One of her favorite things about the Women Activist Club is how loving and welcoming each participant is.
"It makes me feel like this is my second family. Everyone in this club is not only kind and welcoming but extremely supportive of one another and in my opinion, it doesn't get any better than that. Knowing that there is a supportive foundation is the best feeling," Edmonds explains. 
At the same time, she has faced many different challenges while being in this club. When starting this club, she ran into many people who did not feel the same way about women's empowerment and that they needed to place their opinions where it was not needed.
"Many people felt that saying rude, or degrading things towards the club would slow us down, however in reality it only made US stronger. I have also run into problems with scheduling dates that try to make it easier for people to participate. It's a little tough trying to accommodate everyone's schedules but we try our hardest to make it happen," states Edmonds.
"
My favorite thing about the club is that it sort of became a safe space for people. It was such a welcoming environment, and having a community where everyone feels safe and valued is so impactful. "
— Aurora Britton
Another member of this club has faced some of these same challenges. Junior, Aurora Britton felt that people misinterpreted the club a lot.
"It's called the Women Activists Club because women activists believe in equality of the sexes, it has never been an "exclusively women only" kind of thing. A lot of people also saw it as a "we hate men" club, when in reality it has nothing to do with that, and everything to do with everyone being deserving of being heard and seen and valued," says Britton.
Another challenge was all of the restrictions. They wanted to help students feel like they weren't alone, but there were a lot of school issues that made them feel unacknowledged and targeted. They wanted to speak up about these issues (and try to fix them), but due to club rules and restrictions, they didn't get to create as much school-wide change as they wanted to. 
Aurora was a part of the club before it was even a club.
"It's actually a really funny story. Zay and I are in psychology class together and Mrs. Beckham had us share facts about ourselves, Zay's fact was "I am a women activist on the brink of doing great things" (or something along the lines of that) and Zay mentioned she wanted to start a club. We had never spoken before that day, but I wrote my phone number on a piece of paper, and basically threw the paper at her and said "Tell me what I can do. I want to be part of this." So technically I'm a co-founder," Britton explains.
She has learned that there is so much power and unity in simple moments. On some days, the group would just sit on the floor and rant, and she explains how it was so nice to feel comfortable and heard in a school environment because she doesn't feel that often. 
The first thing that came to her mind when asked "what message is this club trying to spread?" was "We hear you, we see you, we value you." She feels like even nowadays, for a lot of women, trans men and women, and people who are non-binary, it's really difficult to be taken seriously when they speak up.
"I think one of the most important messages we spread is just that everyone's voice deserves to be heard, no matter what gender, sexuality, race, or sexual orientation you are," states Britton.