Trent Smith Wins Wrestling State Championship
Senior, Trent Smith, has done it again! Smith has continuously proven himself as a student athlete throughout his time at Shadow Ridge, but for his senior year, he put the cherry on top of it all, concluding his high school wrestling career with a state championship. First beginning his wrestling journey in the fifth grade with no intention of being as successful as he is now, Smith is now deciding if he'd like to further his career in college.
"I've been working towards a state title for so long, the joy and relief I felt after is indescribable" states  Smith.
Prior to winning his first state championship, he also went undefeated all season including his win at regionals. In addition to his senior year successes, he's also previously placed 3rd at state, is a youth state champion, and has placed and won multiple national tournaments.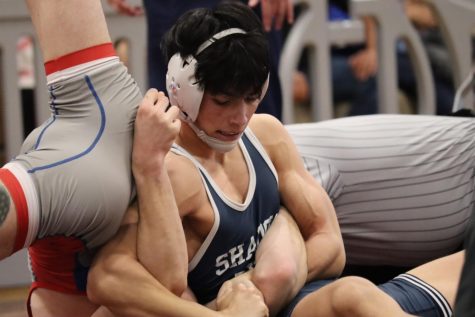 After his overall win, he fell to the ground in awe of his performance. Smith ended his match with a final score of 15-7. He was relieved that he had finally completed the long earned goal he's been working towards for years. Smith was embraced by teammates and coaches following his success. Running into the back room, his teammates all congratulated him on his huge accomplishment. They all smiled and laughed with one another while they showed their gratitude and support towards their teammate. Not only was he recognized by his coaches and family, but Smith was also approached by other coaches wo have had athletes compete against him, and they all showed their congratulations towards him. 
"
There was so much preparation behind this moment. The axiom of hard work leads to success still remains true"
— Trent Smith
In addition to his athletic successes, Smith is also very academically inclined. Not only is he currently holding the spot for Shadow Ridge's class of 2022's valedictorian, he also will be graduating with a 5.45 GPA, Advanced Honors Diploma, and a Mustang Medallion. In addition to in school accomplishments, Smith is also a member of both Math and Key Club here at Shadow Ridge. 
"Not too much I can say about the kid.  He is a stud in every aspect in what he does.  Valedictorian, State Champ, Team leader, someone you would want to date your daughter.  He is a once in a lifetime kid. You do not get to coach kids like Trent Smith very often.  He puts in extra work… He deserved to win.  He put in the work.  Love this kid and we are going to miss him, as well as it will be very hard to replace him.  May never have a kid like him come across our program ever again" Coach Gledhill states.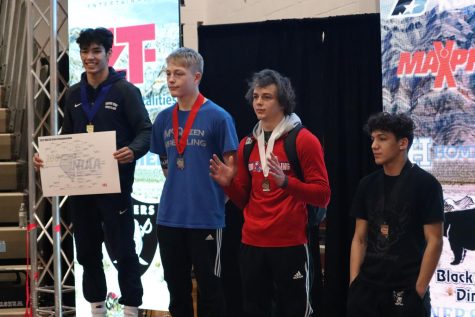 Many colleges have looked into scouting Smith, along with some scholarships he has been offered. Still undecided about a future school and career, he is currently enjoying his time as a Mustang, and is looking forward to what the rest of the year has to offer. Not only is he excited for events such as his final prom, but also his graduation. If he continues to hold his position as valedictorian, he will be eligible to make a speech at this year's graduation, and Shadow Ridge can't wait to see where his accomplishments take him.