Brad and Fredo Are Hitting the Books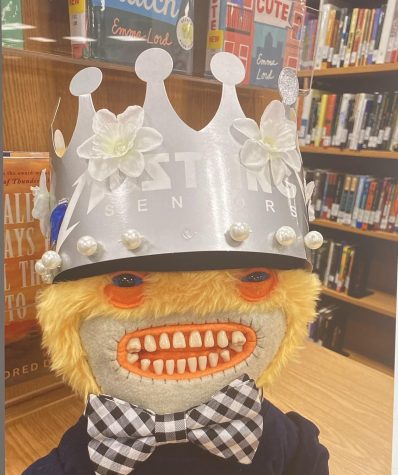 Students of Shadow Ridge have probably heard or even encountered the library's very own monster, who goes by the name of Brad. This furry little guy, who originally belonged to retired teacher Ms. Lourenco, is now working and pulling pranks in the stacks, and, many don't know that Brad has welcomed a cousin, Fredo who is now also residing at The Ridge as part of the new Monster Rescue Facility. Although students are encouraged to welcome these pranksters with open arms, they shouldn't get too close, because, well, they can bite.
According to Ms. Robertson, current owner of Brad, the yellow monster who is always sporting a Shadow Ridge headband is very mischievous. He was donated in 2019 and has run the library's halls every since. He loves to hide in things, loves the books, especially Manga, and loves running around the library at night. He has even picked up doing yoga. Robertson said that he has to stay busy working in the library, otherwise he gets himself into lots of trouble. Robertson took Brad home over quarantine and had a blast even though Brad took to chasing around her dogs. Although Brad can be a major trickster, he is also a sweety at heart, as he gave his cousin Fredo his favorite bowtie.
Speaking of his cousin Fredo, this little guy is new to the Ridge, as he recently transferred here from another high school. This fuzzy brown monster is on the quieter side, probably because he is a bit traumatized as he had been stapled to a wall. For the small price of $20 he was able to be released from his staples and moved to Shadow thanks to former computer tech, Mr. Valasquez. Fredo is still a bit shy but seems to be a troublemaker as he seems to greatly enjoy annoying his cousin Brad. He is slowly coming out of his shell, and hopefully can recover from the stapling and return to his full self soon.
Senior library aide, Abigail Davis, stated, "Brad and Fredo are a rambunctious duo who like to hide around in different bookshelves and take joyrides on the library carts. It makes it difficult for when I need to take a picture of them for Instagram. People definitely don't know the behind the scenes of it all."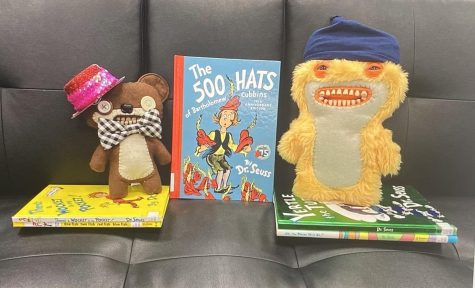 These guys frequently appear on the library's Instagram page, @shelfiepic. On Monster Mondays they show off their favorite books and activities, along with pulling some pranks, so students should check it out if they want to see a little bit more of the monsters. Or, of course, students can stop by the library to not only get a good read but also an opportunity to visit Shadow's furry friends.