The Dance Team Takes The Trophy
Last weekend Shadow Ride's Dance Team performed amazingly in their competition. The team placed 4th in Hip Hop and 2nd in Jazz, as well as 3rd place for a duo choreographed by Lorena Clinton and Breese Mitchel. The dance team has been working hard all year to perfect their routines. 
"The dance team practices 4 days a week totaling around 5.5 hours," says Jill Breckenridge, Shadow Ridge's dance teacher. "We train technique, play around with choreographic ideas, and work on dances. Our dances are a mix of choreography created by myself and the dancers, and most of the time we create the choreography on our own time before teaching it to the rest of the team. Usually we are just finishing a dance a day or two before performing, which is less than ideal but I am very proud of how the team comes together and into focus at the end."
Bella Hawkins, junior, is one of the team captains and says that she's proud of her team, and satisfied with the results of the competition.
"It went pretty well," says Hawkins. ""Show up" was probably my favorite routine. I think we did really well, we all worked pretty hard and because it was our first time I'm proud of our placement."
Mrs. Breckenridge emphasized that every dancer on the team worked their hardest.
"I have to say that I think all dancers need a spotlight, as each one of them have brought their full selves to the team and done the best they can in their way," she says. "I am always impressed with the character each one of the dancers display, the team bond has been our secret to success. However, since this has been such a crazy two years, let's highlight the seniors Breese Mitchell, Lorena Clinton, and McKinley McPhearson."
Taking dance at Shadow Ridge is a fun, community based experience, which makes competing fun too.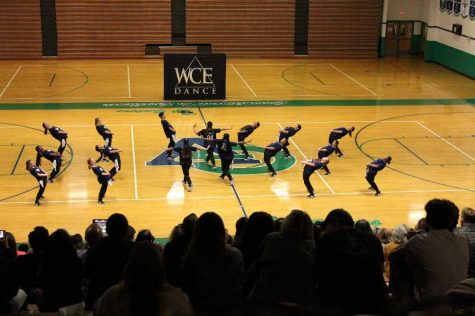 "I like being a captain because people trust me and come to me for advice," says Hawkins.
"I love teaching dance because it allows me to share the best gift I have ever been given,' adds Breckenridge. "Dance is more than just counts, costumes, and steps, the process of creating a dancer is one that asks them to explore so many aspects of themselves as a person. I know it sounds deep but dancers have to be in touch with how they feel so they can make the audience feel, they have to be tough to withstand the demands of physical training, and they have to be flexible as choreography changes often. Teaching dance is a way for me to help prepare the dancers for success in life, and that is the best thing I believe I can do with my time. Lastly, the bond that has formed between the dancers on the team is something that truly warms my heart, and that makes it all worth it."