New Planet Fitness Location Hitting the Globe
Planet Fitness is a very welcoming and popular gym, so the business is able to continue opening new locations. The newest loccation is at the Crossroads Towne Center, taking over where the Bed Bath and Beyond used to be. This location is much larger than the other locations. The exact location of the gym is 6564 North Decatur Blvd, 89131. Many people frequent the gym often, such as former Shadow Ridge student junior Elizabeth Stephenson. At the gym there are two membership options. The Classic Membership for $10 a month and the PF Black Card Membership for $23 a month. 
"We strive to create a workout environment where everyone feels accepted and respected. That's why at Planet Fitness North Las Vegas (N. Decatur & Rome), NV we take care to make sure our club is clean and welcoming, our staff is friendly, and our certified trainers are ready to help. Whether you're a first-time gym user or a fitness veteran, you'll always have a home in our Judgment Free Zone," states Planet Fitness website.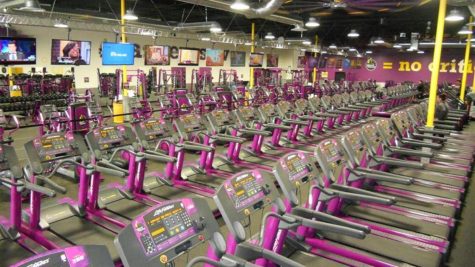 Planet Fitness main goal is to make everyone feel comfortable and safe while working out whether they are brand new to the gym or people who have been going to the gym for years. 
"Get high-quality fitness at an affordable price. Planet Fitness offers low startup fees, no-commitment options as well as the PF Black Card where you can get ALL. THE. PERKS all in the Judgment Free Zone," says the Planet Fitness website. 
With a couple different options for payment plans, a Planet Fitness membership is really attainable for any financial status; Planet Fitness takes pride in making their gym affordable for everyone.
Do you think the PF Black Card Membership is worth the money?
Sorry, there was an error loading this poll.
"The new Planet Fitness is really nice, it has a special area for Black Card members which is very nice. In my opinion the water massage beds, massage chairs, and the light machines make the area worth the few extra dollars. Overall the gym is very nice, it isn't super busy so you can always get on the machines you want. They have different workouts that they do so you can follow them to make the workout better and they really work the whole body without exhausting you. Compared to other Planet Fitnesses I think this one really stands out, and has a bigger black card member area along with also having more machines and better equipment. To me I would rather work out at the Decatur location because not only the machines, but also the staff, everyone is very nice and always willing to help if you need it," says Stephenson.
The gym is welcoming and available to everyone, but with the Black Card Membership people are given a few extra perks and appreciation.