Driving Around at Driver's Edge
The Driver's Edge program is a very unique course that allows students to try unconventional driving maneuvers that could happen on the road. Every new driver should sign up for this program. The Driver's Edge mission statement is to save lives which includes making the highway safer through teaching young drivers how to stay safe during tense situations.

Shadow Ridge High School sophomore Charlotte Schraft stated, "Driver's Edge was such a cool experience! You learn how to be safe behind the wheel and experience how emergency situations might feel. They emphasize the importance of seat belts and you get to see lots of videos. It's hands on as well as lots of education and I had such a good time! Be aware, expect the unexpected, and don't freak out!"

Driver's Edge stresses wearing seat belts through different videos and simulations.  It is very important and is sometimes the determining factor in whether someone survives a car accident.  The officers at Driver's Edge stress the importance of making sure all of the passengers in a car has seat belts on before the driver begins driving.

Karissa Guthrie

Brock Morrow, sophomore at Shadow Ridge High School also took the class and stated, "I took this course Sunday and have a newfound confidence behind the wheel. I was able to avoid a collision the very next day from skills I learned there. So I am truly grateful for this program! I wish it was mandatory. Also it taught you what to do when you lose control on a slippery road and how to regain control."

Professional drivers make up the core of the teachers at Driver's Edge.  Some of the things they stress include, making sure the driver hasa tight grip on the wheel when trying to regain control, keeping hands at 9 and 3 on the steering wheel.  They also stress staying away from distractions, such as phones, food, radio, etc.  There are so many things on the road that can happen, being aware at all times is important as a driver.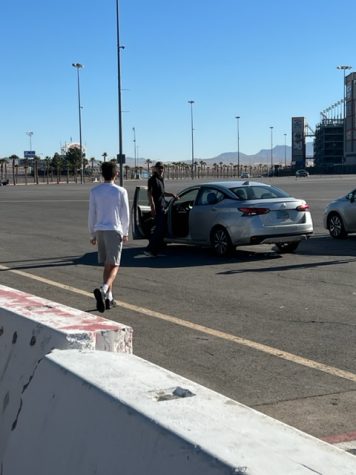 Clark County School District Police Officer, Keith Habig who works the event stated, "The biggest benefit is learning how a vehicle reacts in certain situations and understanding more about how to get through them as safely as possible."
Officer Habig stated that he is working with Mr. Gilmore to bring the Zero Teen Fatalities program to Shadow Ridge High School.  This program brings awareness to new drivers to be safer on the roads and hopefully make better decisions that can possibly save their lives.  This program will surely benefit all of the students at Shadow Ridge High School.  This is a great opportunity  to build driving skills while providing great practice. Driver's Edge has been around for over 20 years and almost every student who attends the event  comes away with way more knowledge about handling a motor vehicle.
Driver's Edge is a great program all new drivers can learn a lot from.  It will really take young students driving to the next level, not only behind the wheel, but also as far as understanding of the mechanics of the vehicles.  It will teach defensive driving maneuvers and allow for instruction on how to become more aware of the things new drivers are faced with behind the wheel.