A Vegan Oasis: Peterson's Pantry
Calling all vegans! Peterson's Pantry is the place for vegans to get all of their favorite vegan eats and treats! The company features all of these amazing foods and treats for the perfect prices.
Started in August of 2019, Peterson's Pantry offers many services like meal delivery, private chef services, and special event catering. They have various food options such as sandwiches, pizzas, bowls, soups salads, and even desserts like cakes and cookies.  And the food isn't just vegan, its good quality! "[…] her strawberry cake has fresh strawberries bakes right into the batter […]," says junior, Summer Conboy. "Her mushroom risotto is always the first thing I reach for when she has extra left overs. […] my favorite dish of hers is her enchiladas. She makes them with chicken and potatoes and cheese with green sauce on top."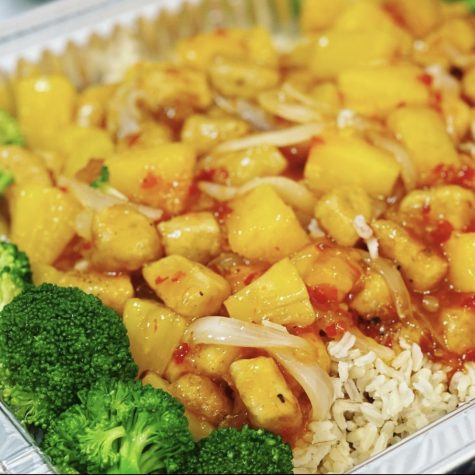 Stephanie Peterson is mastermind behind the company, using her amazing food to spread a little love and some good eats!
"My mom came up with the company when everyone kept telling her that she needed to sell her food because it was so delicious," says Conboy. "One day she came home from work and said 'I'm starting a business' and the rest is history."
Conboy said she enjoys working in the family business because the employee perks are better than other companies.
"[…] my mom and dad are the owners so we can get away with pretty much anything," says Conboy. "Plus, free food and cakes! She makes us sample everything to make sure it's good!"
But of course, working well with family can be difficult. "The hardest part is that my mom and dad are the owners so when we mess up they yell at us." But, sometimes yelling comes with good reason. "Only my mom yells. She takes food quality and customer service very seriously and has very high standards, so we understand why something isn't quite up to her standards for our customers."
"
When you're doing something you love, with people you love, for people you love, you'll never feel like you're working a day in your life."
— Stephanie Peterson
In the end, working with family definitely has pros that out weigh the cons! "Our family business is so important to me because not only does it pay the bills, but it allows my parents to work together and they get to spend more time at home than when they both worked for other jobs that kept them gone all the time," says Conboy. "Plus it's nice to be a part of so many people's special occasions. We cook a lot of holiday meals for people and it feels good that they pick us for their families."
Feel free to check out Peterson's Pantry and Peterson's Catering for any vegan food and sweet treat needs!