Overworked and Underpaid: Justice For Marley!
As the backbone of Shadow Ridge, The Lariat has many important people working behind the scenes to make it the best possible news source. One of which is senior, Marley Martinez, the most hardworking poll writer. Every Monday, Martinez spends hours upon hours thinking about the perfect poll question for The Lariat readers to answer.
Avid Lariat readers look forward to a new poll every Monday, so coming up with a new, fun idea to draw people in, is a very high stress level job. There are many rules that have to be followed, when creating the perfect poll, some of which include making sure it's timely, making sure it's fun and exciting, makes people think, etc. 
"As the poll writer, I know that the entire student body is waiting for a new poll every Monday morning, so there's a lot of pressure on Marley to perform. A lot of times she doesn't have a lot of ideas, but she should have flushed that out the week prior," states The Lariat advisor, Mrs. Smith.
With having such a high stress level job, oftentimes Marley will be seen huddled in a corner, so she can focus. Sometimes, she can also be seen having a mental breakdown at her desk, because she knows that the entire student body is waiting on her. 
Ella Dyer, emotional support of The Lariat, exclaims, "At times when I look over, I see Marley's head buried into her arms, and I hear the sounds of muffled cries coming from her."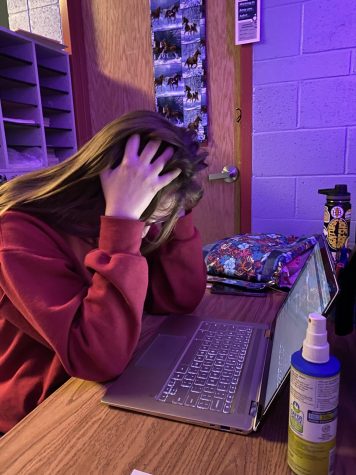 This goes to show how much pressure and work Martinez has to put in every single week. As a senior, Martinez has to worry about the stress of college applications, graduation requirements, finishing her senior year, plus with the added stress of writing the polls, Martinez should get some form of pay or compensation, for her mental well-being. 
"Sometimes Marley complains about the stress that writing polls causes her, but I just want her to get used to a high pressure situation. This is only going to better prepare her for her future," explains Mrs. Smith.
Overall, Marley Martinez, the most hardworking, overworked, and underpaid, Lariat staff member deserves to be appreciated. Martinez may sound miserable, but she wouldn't trade her job for the world. Even though The Lariat is known to be the backbone of Shadow Ridge, Martinez is the backbone of The Lariat. Justice for Marley!
Should Marley be given some sort of pay?
Sorry, there was an error loading this poll.