College Knowledge
With March Madness approaching, college basketball is just getting into the thick of things. Some teams are starting to gel at the right time, while other teams are starting to fold because of the pressure.  As of now the number 1 team in the country is Auburn but they just suffered a heartbreaking loss at the final seconds to Arkansas who is not even ranked.  Auburn is followed by Gonzaga and Purdue in the current polls.  Who are some of the teams to make a run in the playoffs?
Bryan Rauf from ESPN Sports Division said one of his sleeper teams is Colorado State, stating, "How can you outperform expectations when you're picked to win your conference? You become a top 25 team that is relevant nationally. Colorado State is poised to do so in head coach Niko Medved's fourth season at the helm. The Rams return over 95 percent of their production (per Bart Torvik) from a team that went 20-8 a year ago, though four of those losses came in the team's final seven games, including two in the NIT. Had it been able to play a normal non-conference schedule, Colorado State likely would've returned to the NCAA Tournament for the first time since 2013."
Colorado State is a great team who is underrated.  They are not in the current Associated Press top 25, but they could make a run once March Madness starts.
What would you rather watch?
Sorry, there was an error loading this poll.
Shadow Ridge sophomore,  Jeremiah Campbell stated, "Being from Memphis, my sleeper team is Memphis.  Being in the SEC, they compete hard every night.  They also have an extremely good back court with Emoni Bates leading the way."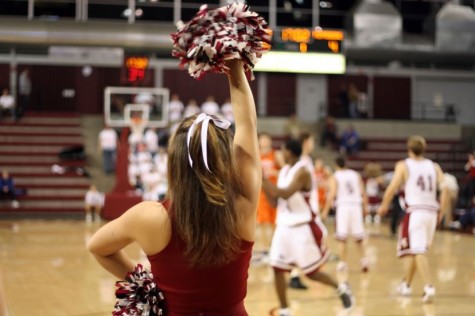 Memphis is another team that isn't in the current AP top 25, but is getting votes to potentially make a deep run in the NCAA Division 1 Playoffs.
Pat Ford is a college basketball analyst whose sleeper team is Oklahoma State. Ford stated, "There's no denying what Cunningham brought to the table. The No. 1 pick in the NBA Draft led the Cowboys in a ton of important categories — scoring, usage rate, assist rate, 3-pointers made, and he led the nation in clutch scoring (by alot). Oklahoma State will miss those things! But this group proved it was more than a one-man band, the last Avery Anderson III is perhaps the biggest key to Oklahoma State maintaining its place as a top-25 program. He stepped up and became the team's clear second option down the stretch as he averaged 16.6 points over the Cowboys' last 10 games. His combination of athleticism, quickness, and shot-creation skills made him a tantalizing high school prospect, and it looks like he's finally starting to realize that potential."
Oklahoma State is yet another sleeper team that has a great chance to go a long way in the upcoming playoffs.  Time will tell if Auburn will continue at number 1 or if some of these sleeper teams mentioned, Colorado State, Oklahoma State, or Memphis will get their chance to shine in the number 1 spot.  March Madness is arguably the best month to watch basketball, and is sure to bring some action packed games.  These underdog teams look to make a run and possibly go all the way to the championship game.