Flag Football Playoffs: Good Things Happen When You Hustle!
The Women's Flag Football Team has clinched their 5A playoff spot by finishing the regular season with an impressive 18-3 overall record and a 10-1 division record. Their first playoff game will be held at Shadow Ridge on Tuesday, February 15th at 6 p.m. All staff and students are encouraged to cheer on the team as they battle the Las Vegas Wildcats.
Overall, this season has already been pretty memorable as the team surpassed the previous record of the most wins in a season. Coach Matthew Nighswonger remains humble though, stating that the total number of wins isn't important, he just stresses to the team that getting better every practice and playing their best is the ultimate goal.
"
As long as we are playing up to our potential we have a great chance to win any game. If we play up to our capability and give it our best effort I will be happy."
— Coach Nighswonger
The Women's Flag Football Team has been a consistently successful program for Shadow. They have made it to the playoffs every year since the 2015-2016 season. The team has also been the Division Champions, Regional Champions, and the runner up State Champions in the past. This year's team is no different in terms of excelling on the field and they seem to have a chemistry that has been unmatched. They continue to focus on one game at a time and improve each day.
Nighswonger states, "This team has a lot of football knowledge. Many of the girls have played with us for multiple years. They have been through a lot. They have been dealing with the pandemic for two years now. I think that gives them some extra mental fortitude."
Senior wide receiver, Dyva Jones, is especially proud of how well the team works together in order to improve every day.
"We always uplift one another and our coaches do a great job of doing that as well. We all know where we want to be come February 22nd," stated Jones in reference to the state championship game.
The 5A Division in Women's Flag Football has a reputation for being a tough group. Going into the playoffs, the girl's will likely face their biggest competition from teams like Green Valley, Gorman, Palo Verde, and Southeast Career Tech. Depending how the initial round of playoffs go, the team has been preparing to face any of those teams in the upcoming games.
"We have been doing a lot of game planning to make sure we are prepared to attack each teams' weaknesses and to protect against their strengths," stated Nighswonger. "We spend a lot of time scouting the other teams and teaching the girls what we learn. We also try to make sure they realize hustling and effort are the most important things needed in a game. If they continue to do that, the results will come."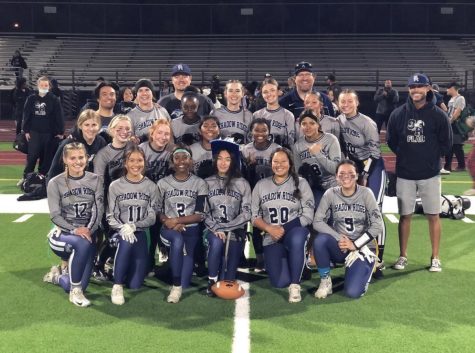 This is the first time that Shadow will host a flag football playoff game and Nighswonger is encouraging students and staff to come to the game to support the team. The girls play extremely hard and the games are exciting to watch; even if the weather is a bit chilly, the rush of adrenaline will warm up a spectator right away.
The highest seed in bracket play will continue to host the playoff games so Nighswonger is hopeful that this won't be the only game to watch at Shadow over the next two weeks.
Jones states, "Every single one of our girls are absolute beasts and our chemistry is amazing! As a team we all have a common goal at the very end of this season and that's to win it all. We've worked, played, and studied harder this season to go out and achieve that goal!"