A New Year for Yearbook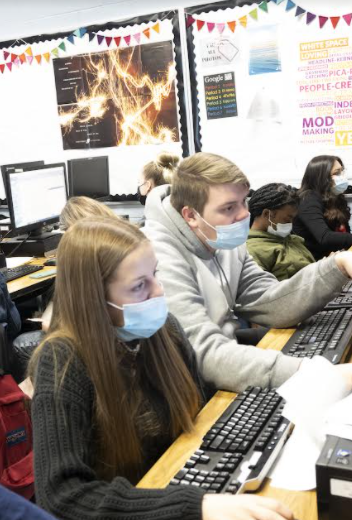 Publications (AKA yearbook) is an elective available for 10th, 11th, and 12th graders. Yearbook is a collaborative class taught by Mrs. Mason where students have the opportunity to learn a variety of skills and talk to a lot of interesting people. 
"You learn graphic design, photography, and interviewing skills," said Mason. "You also learn how to be outgoing and get out of your comfort zone because you get to talk to a lot of people. I'd say you learn some marketing skills too because we have to sell products."
Publications is a great fit for many types of people, but Mason says the class especially benefits people trying to find their place in school. 
"The best candidates are people who might want to be more involved in school but haven't quite found their niche yet," she said. "Obviously people who are athletes and in clubs and stuff are more than welcome, but I think it's those people who haven't found where they belong because you get a little bit of exposure to everything. If you're outgoing and know how to talk to people it helps, but I would encourage people who are a little shy if they want to overcome that shyness and be forced out of their shell."
Yearbook is an outlet for a lot of people who take the class, and a source of fun during the school day.
"I love being in yearbook," said Sierah Coleman, sophomore. "It's nice that we are given independence and creativity. I like meeting new people all over the school and I've made some acquaintances/friends because of yearbook. Mrs. Mason is like the best teacher ever which is a plus."
According to Mrs. Mason, the classroom environment is open and collaborative and allows students independence while also giving them the opportunity to work together.
"We're definitely still recovering from COVID, so the classroom is not what it should be, but in a good year the atmosphere is usually two things; very businesslike when we're working, for the most part everyone comes in knowing what they need to be doing, but we also definitely take our time out to celebrate small victories," said Mrs. Mason.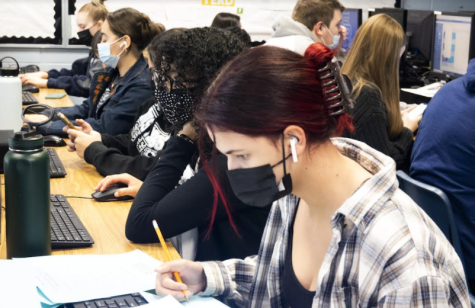 "What ends up happening is we end up being a little community of hardworking people. My favorite part is probably that the kids always know more than me and teach me new things every year. I love getting to work alongside the students, so it's not like I'm above them telling them what to do, we're all in it together."
Overall, publications is a rewarding class to take and a unique opportunity. Helping to create the Shadow Ridge Yearboook is a great experience for all kinds of people.