Lights up on Shadow Ridge Theatre's Hardest Workers
Lights begin to turn on in the Shadow Ridge High School theatre, illuminating the scuffed wooden stage and the people below. Students mill around the auditorium and take their seats as after-school rehearsal commences. However, there are a few students not seated, instead, they are striding from place to place ensuring that everything is in order and properly prepared.
Sounds of power tools and the smell of sawdust can be experienced backstage as the technicians, commonly referred to as "techs," toil away at set pieces for the spring musical, The Wizard of Oz. Two techs, junior, Mikey Baracha and senior, Ari Kendrick, take a handsaw to sculpt the jaw on the head and carve the eyes with a drywall knife. Small white dots float through the air as they hack away, sticking to their hair and clothes creating a scene of freshly fallen snow.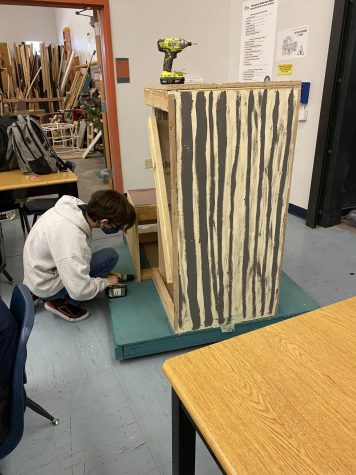 With just a couple of weeks left until opening night, these technicians are hard at work not only creating set pieces but fitting costumes, creating lighting cues, and perfecting sound design. Kendrick specializes in sound while Baracha typically runs lighting, however, both are able to complete any task necessary.
"The tech class is really fun and exciting," Baracha remarks, "We're always getting to try new things and experiment with different materials and subjects."
"We learn a lot about collaboration as we work with students in our class as well as other performing arts classes to put on various events," Kendrick explains.
In class, students learn all about set building, sound, lighting, and costume design, as well as prop making and stagehanding. They are in charge of setting up almost all performing arts departments events and are the backbone of a large portion of the school functions.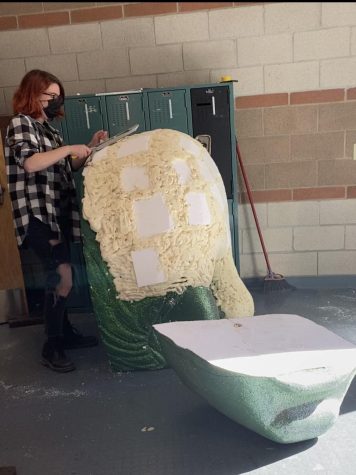 "I've worked haunted houses," Baracha continues, "four or five plays and musicals, as well as countless choir, band, and orchestra concerts."
The work is challenging and requires the technicians to not only be working hard but to constantly be looking for creative fixes to various problems. They have the council and direction from theatre teacher Mrs. Hartley but for the most part, she allows them creative freedom to brainstorm and execute plans and solutions.
"Even though it's hard work it ends up being really rewarding." Kendrick posits, "Seeing the lights come up on a show that I've worked, or seeing people enjoy events that I've set up is really fulfilling."
"Yeah, it's really fun." Baracha agrees, "I like seeing people having fun and appreciating work that we've done. It really makes it feel like all the effort has paid off."