Making a Racquet
At 8:04 on Monday morning, during his AP Stats class, senior, Dennis Speaks, dedicated himself to a new goal. Speaks decided that his future lies on a racquetball court. After seeing a post by Las Vegas Athletic Club while scrolling through Instagram, Speaks asked his classmates if they were "in" on his conquest into the art of this new and mysterious sport.
Speaks intends to practice day and night on the racquetball courts until he is the best of the best. Although Speaks doesn't yet know what the rules of the game are, has never played before, and is currently an avid track athlete, all this can be pushed aside by Speaks's persistence and desire to learn.
His fellow classmates weren't particularly quick to jump in on the trend, but it seems Speaks has started a school-wide craze over racquetball. Students, teachers, and administrators across campus have been whispering in hushed tones about the fresh obsession. 
Speaks shared his primary concern on the topic of the sport, "I'd like to start playing, but I don't have the money."
Funding is a large concern of many of the new racquetball players at Shadow Ridge. A certain kind of membership is required at LVAC to use the racquetball courts. Other racquetball courts can be found, but the equipment needed to play costs money.
LVAC explains on their website, "Members have an opportunity to sharpen their agility on one of our many racquetball courts."
The fascination with racquetball, however, has spread far past just members at LVAC. 
"
I want to try racquetball! Racquetball is the best."
— Elaina Smith
"Actually racquetball is pretty fun," stated Cooper Fisk, senior. Junior, Ethan Hughes, added, "I would [try racquetball] because I really love sports and am willing to try anything at least once."
With its popularity spreading, not all Mustangs have chosen to accept the trend. There are several critics who neglect the enjoyment of the latest activity.
Mr. San Nicholas, the assistant principal who once drained the pool on the roof, said, "I don't like racquetball, trends, or people having fun. It reminds me too much of the pool."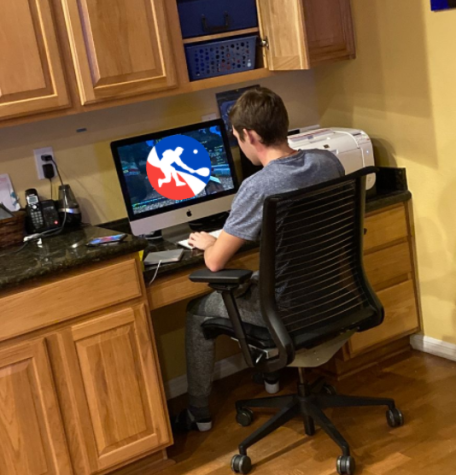 However, despite the negative energy, Speaks and his followers choose to carry on in their athletic adventure. The trend appeared to come out of nowhere, spurred by an Instagram post, but Gavin Bott, senior, claimed he saw it coming all along.
Bott elaborated, "It didn't surprise me that much because I've played a lot of tennis with him and they are similar games."
Racquetball, though, is no simple game of tennis. It's an entirely new experience to explore, making it no wonder that it's grown widely loved by Shadow Ridge so quickly.