The I-15 Expansion
During the 2021 holiday season, Nevada Governor Steve Sisolak and California Governor Gavin Newsom called for an immediate relief for the I-15 Nevada-California border. The relief calls for miles of expanded lanes to reduce the traffic caused by the bottleneck starting at Primm, Nevada.
More than 40 million tourists visit Las Vegas and among them, almost a quarter come from California. This leads to massive traffic on the I-15 and can make a relatively short, 4-5 hour trip, as long as 10 hours.
Sisolak says, "It's going to go a long, long ways toward, one, cutting down on the time to travel, and two, making it safer for people. It's long overdue."
The expansion is proposed to begin this spring and expected to be complete by the summer. Whether this extension will be permanent is still being discussed.
Newsom says, "There's a deep urgency for us to meet this moment. We're not passively interested in trying to episodically solve this. We're here for the long haul. We want to get this fixed. And I made that crystal clear to my team."
"
The United States has turned its attention to achieving the significant benefits of high-speed rail, including job creation, greater connectivity between communities, and emissions reductions"
— Brightline West
The I-15 expansion is just the beginning to making Nevada-California transit easier. The Brightline West train is a proposed high speed railway that connects Las Vegas and Los Angeles.
Sisolak states, "We're both working with Brightline as it relates to the high-speed train. I was down in Florida to actually ride the train … It's impressive what they're doing, and we're working on certain rideaway issues with the Brightline folks. I know the [Gov. Gavin Newsom] is committed to it. I'm certainly committed to it. Anything we can do to relieve the congestion and help the citizens of both states, is something we're anxiously working toward."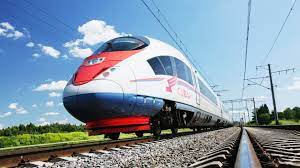 If the Brightline West train is anything comparable to the Brightline rails in Florida, they could be traveling at speeds of up to 125 mph. This would be able to complete the Las Vegas-Los Angeles trip in a little over 2 hours.
Hopefully, the I-15 extension will help the traffic between Southern Nevada and California and maybe it will remain permanently. This may even lead to Brightline West easing travel across the Nevada-California border. Regardless, the many California and Nevada citizens that worry about traveling across the I-15 should be relieved soon.