Claire's Rockin' First Chair!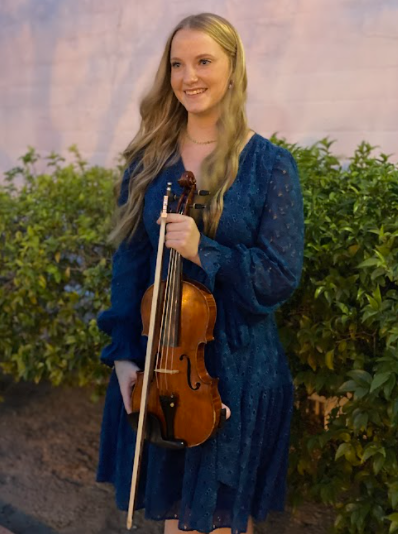 Big roles can always be intimidating but senior Lola Walters, also known as Claire, has been a great role model as first chair in Shadow Ridge's advanced orchestra.
Walters describes her role as second nature. Being first chair, for Walters, has proven to be a lot of responsibility. It's nothing she can't handle, however.
"I think because I've played the violin since I was 6, it's kind of like second nature to me so I don't get too nervous," describes Walters. "But anytime I have a major solo within a piece of music I do tend to get a little nervous because I obviously don't want to mess up."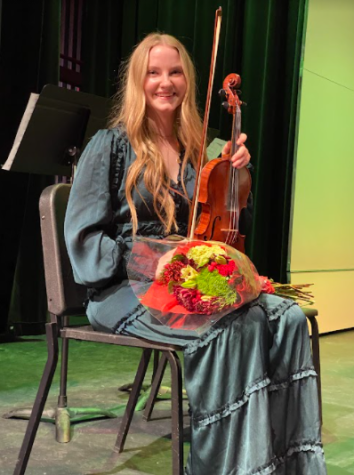 Walters says that many of the younger, newer players look up to her for help and inspiration. She proves to be a great fit for this job. Walters is confident within herself and her skill, but that doesn't mean she isn't human. Walters still struggles with her nerves when she is proving herself with big responsibilities.
Walters explained, "I really do like having the role I have, because it makes me feel like my opinion matters a little bit more and although it's scary to have everyone looking at me, I like knowing that they are comfortable and confident enough to come to me for help."
"
I think she is a natural leader and I think she has earned the right to be our Concertmaster "
— Edward Richards
With such talent, Walters shines sitting first chair, standing out especially when she has solos. She is dedicated towards perfection and strives to have a flawless performance. Mr. Edward Richards, Shadow's orchestra teacher, tells about Walters' talent and what younger kids look up to and what he looks for in a good student.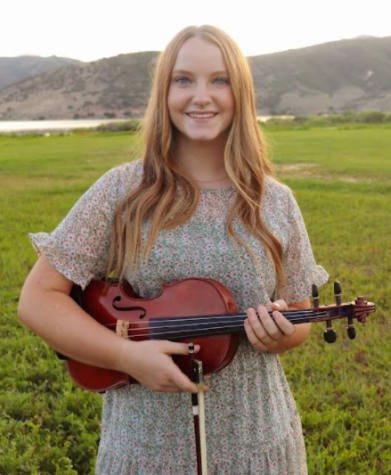 "Hard work, determination, self motivation, willingness to be coachable and at the same time voice her opinion," said Mr. Richards. "…she handles this responsibility well. She is always ready to help or lead the younger students along."
Not only does she enjoy helping, but simply being able to share her talents with others and create beautiful music brings happiness to Walters' heart. She stays on her toes to get better and better each day. With so many eyes turned towards her she continues to practice to achieve perfection. With so many skills such as fingering and bowing, Walters never gives up the idea that she can keep getting better. She has hit such a high point and yet she still continues to make and reach more and more goals. If in need of a great role model or leader, anyone could look up to Claire Walters.