One Ride Away From a Good Mood
How fast is too fast? With the current rising popularity of electronic bikes comes new dangers and threats to life. There have been over 58k injuries related to e-bikes and e-scooters in the past year. They can be a great way to help people get around town without spending as much effort. Although, many have been using highly illegal and modified ones to race around at blistering speeds upwards of 70 mph. Jason Nguyen, a high school senior at Shadow Ridge High School, has first-hand experience building and riding e-bikes.
With such high speeds comes higher risk and more injuries. E-bikes are currently in a legal gray zone. Multiple public servants have no clue how to identify illegal and modified e-bikes. Although dangerous, many are still in support of a more eco-friendly way to commute. There are different safety precautions users have to take when riding e-bikes, such as wearing proper DOT-rated helmets and motorcycle-inspired gear. This equipment is designed to protect riders at crashes up to 80 mph. A durable set of gloves is also highly recommended.
In fact, Nguyen claims, "I use my e-bike every day! It takes me to work and gets me home without any issues. I love the fact that I can easily get where I need to go without any form of license or insurance too."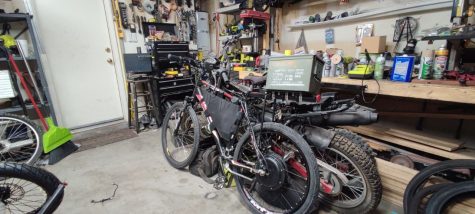 Nguyen states that e-bikes have had a positive influence on his life. E-bikes help him do daily tasks with ease. When using e-bikes, users are not required to possess a driver's license in the state of Nevada. This can make getting around the city a lot easier for minors or people with no driver's license.
"When riding my e-bike, I make sure to always wear a helmet, gloves, wrist guards and knee pads just in case of an accident. I can never be too careful, especially when driving on busy streets," Nguyen stated.
Nguyen makes sure to wear all of the safety equipment that is suggested to wear when riding an e-bike. E-bikes can go at very high speeds so they can't ride on the sidewalk, they must ride on the street. That can make riding e-bikes dangerous when mingling with cars and motorcycles on the road. There have been thousands of incidents involving e-bikes just in the years of 2017 and 2020.
Jerome Dickey, another high school senior, also enjoys riding electric bikes and has been working on one for some time. 
"I've spent a lot of time saving up money and researching the different batteries and what are the best ways to build an e-bike. I've spent between $5000 and $6000 on just this one e-bike."
Sometimes, e-bikes can be very expensive. E-bikes can range between $600 all the way up and over $8000, according to E-Bikes HQ. They compared 450 different e-bikes and most of them were under $4000. The reason they can get to be so expensive is because of the battery and electric motor that is put on the bike. From these statements, it can be concluded that e-bikes are a sustainable method of transportation. Although some riders can be reckless and negligent. With further refining and regulations, the future of e bikes is bright.