Leonardo Di'Environmentalist
Leonardo DiCaprio, "actor and environmentalist," according to his Instagram bio, is a man who rose to fame in the 1990's, and exploded in popularity for his role as Jack Dawson in Titanic. He recently came out with the movie Don't Look Up, a political satire movie about America and how it responds to an Earth destroying comet. DiCaprio also has one of the most interesting social media accounts of any celebrity. It particularly revolves around environmental activism.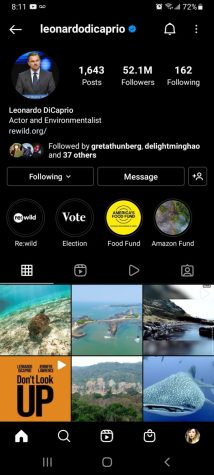 Upon looking at DiCaprio's instagram account, one is greeted with various images of animals and landscapes. From anything to birds to islands, a spectator is greeted with beautiful images of Earthen life. There are videos of various messages from people all over the world speaking on the environment. 
Leonardo Dicaprio also has very long, informational captions. One example of one of his shorter captions comes from a post he made on January 4th, 2022 regarding wild parrots. It says, "Every year thousands of wild parrots are illegally caught and traded across Latin America for the pet trade, driving precipitous declines in their wild populations. In a new project, Daniel Alarcon (@danielalarconparquesnacionales) and David Grunbaum capture striking images of parrots and macaws that have been rescued from pet trafficking and poaching. They hope their images will inspire conservation action for species that are already globally threatened." 
View this post on Instagram
In an interview with CBS morning in 2014 Leonardo DiCaprio said, "I've always been fascinated by… this world that we live in, and how destructive we are to it… As soon as I became an actor that's always been a parallel passion of mine, trying to bring attention to some incredibly important issues." It appears that passion hasn't died down at all, and won't anytime soon. 
It appears that this passion isn't just for show as well. In a 2014 interview with POPSUGAR entertainment, Margot Robbie, DiCaprio's co-star in Wolf of Wall Street said, "He's a massive nerd when it comes to the environment… he could probably name you every extinct bird for the last… ten years. He once made me watch this YouTube (video) that went on for like 20 minutes about all the endangered species of something."
DiCaprio, using his fame and modern social media to speak out on the environment, is really admirable. While other celebrities post about their lives or nice photos of themselves, DiCaprio is dedicated to his cause. Because his presence is so different it may catch a spectator off guard at first, but it's hard not to come around when he is so authentic to his passion.