Are You Dunking?
Nike has done it again with another fashion trend that is making waves on social media. What originally started as a basketball shoe in 1985 is now starting to be loved by skaters because of its durability and protection. Today the shoes continue to transcend across all activities such as sports, style, and culture. However, with its popularity comes a sticker shock on the price tag.  
Tim Riding, Independent Fashion Blogger said, "These sneakers are highly coveted, and over the past 30 days, the average SB Dunk has sold for 375% more than their average retail price. However, like all markets, it ultimately comes down to supply and demand — if a product has a community of collectors and an active market, trade will flourish."
Throughout the years the Dunk has evolved. When Nike created the Nike SB it took off in the skateboarding world with its bright colors and sensational designs.  Now, it wasn't just looked at as an athletic shoe, it was starting to jump to different likes and styles.
"Dunk to me is a style that transcends style, aesthetic and look," says James Trivunovic, a former head of buying at Size? and sportswear at END Clothing, now with Manchester's The Hip Store."The Dunk has had a huge resurgence in the last 12 months because of the thirst for nostalgia and cleaner sneaker silhouettes from a new consumer, as well as the likes of social media heavyweights such as Travis Scott, Virgil Abloh and Ambush doing their own takes on the style," adds Trivunovic. "I think Nike has tried to protect the Dunk as one of their true icons and have seen demand grow very quickly. Keeping the numbers low in the market and creating hype has made the shoe even harder to obtain."
The popularity has continued onto high school campuses in Las Vegas and around the country.  Students around campus have been seen wearing the style with all types of outfits.  While none of the sports teams seem to wear the shoe, students can see it as an everyday wear for many around campus.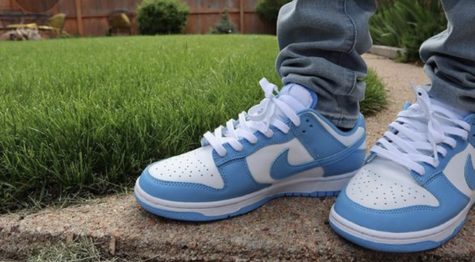 Shadow Ridge sophomore, Diego Faulkner said, "I bought Dunks because I liked the way they looked. I especially liked the classic ones like the Panda and Georgetown. You can rock them with a lot of outfits and they look good with all of them."
Whether someone is a basketball player, a skater, or just walking around school, the Nike Dunks will be a good fit .   
Would you rather have?
Sorry, there was an error loading this poll.