Men's Volleyball Is Set Up For Success

As Shadow Ridge turns the corner to spring, students and staff are getting hyped for men's volleyball. As one of Shadow's favorite sports, and with the return of the man, the myth, the legend, Coach Christian Augustin, this season is bound to be unforgetable.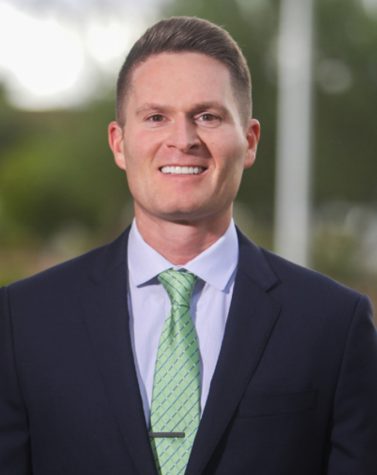 Shadow Ridge's volleyball programs have been known across the valley as being exceptional, some would even refer to Shadow as THE volleyball school. Men's volleyball has had some thrilling past seasons, with some big titles including two state championships, and another team who was ranked 7th in the nation, which was also the only Nevada team to ever win the LVI tournament. With five returning starters and new coaches, students, staff, and sports enthustiats believe that the boys might even have a chance at state.
Head varsity coach, Luke Wilson is very excited for the upcoming season. He looks forward to working alongside Coach Augustin, who was the coach at SRHS when they won their two state championships, saying that, "Christian and I have been talking about his potential return for a couple of years now, and I finally got him to commit to coming back and helping out. Christian and I have a good working relationship so I feel like we work really well together."
Wilson also stated, "It's a state championship or bust every year that I coach volleyball at Shadow. Being in the the 5A state semi finals game was fun last year, but winning it all is one of the big goals our team will have this season."
Wilson says he is not nervous to go up againts any other teams, but instead excited to play against teams like Palo, Arbor, Green Valley, and Coronado because he coaches some of those players during his time in club volleyball.
Coach Augustin will be a huge asset to the team, as he has lead both of Shadow Ridge's championship teams to their victories. However, it goes without saying that the boys are also pretty incredible. With 5 returning starters, juniors, Brady Beko and Tyler Kirk,  and seniors, Tass Ahlstrom, Justin Lewis, and Trevor Prince, Coach Wilson says that they "will be big parts of this year's team." These players made it to the semi-finals of last year, so hopefully they can go all they way this season. It seems that all of the necessary components are here.
Returning senior, libero Tass Ahlstrom is looking forward to this season. Although he is sad about ending his high school career, Ahlstrom hopes it is a great one. He says that they are shaped up to have a great team this year, and says he believes that, "We have a really high chance at state if it goes how we think it will."
Students are also looking forward to the season, one in particular being senior, Bret Emery who plans to shave his head if Shadow's team wins state. Emery looks forward to watching the boys play agaisnt Palo and Coronado, as he believes those matchups will be competitive games.
Emery says, "I believe we have a chance, but I know there is a lot of good competition that we have to go through."
On the contrary, if the boys do not win the champoinship,  Ahlstrom will shave his head. To this, Bret says, "That will be a good sight to see."
Will the boys go all of the way this year? Many think so. Stay tuned to find out!