Happily Ava After
Ava Garcia wanders Disneyland, admiring the different rides, sights, and wonders of the park. The sound of Thunder Mountain Railroad rattles nearby. The scent of churros and popcorn fills the air. Breathing in, memories flash through her head. This is far from her first time in the park. She visited it all throughout her childhood, several times a year, and intends to continue this practice into the rest of her life.
Shadow Ridge High School junior, Garcia is one of the biggest Disney fans out there. It's the way she's been raised since birth. Vacationing to Disneyland not only gives her ways to connect and bond with her family, but it also allows her to enjoy herself and relax among the stress of school. The Disney parks have had a shocking impact on her life and she feels a very strong connection to them.
"
I will abso-fricking-lutely be going to Disneyland until the day I die."
— Ava Garcia
Garcia explained, "[Disneyland] means happiness. It's a safe place for me because I spent a lot of time there growing up and it holds a lot of memories."
These memories are spread throughout her lifetime, featuring anything from holding hands with her grandpa while walking through the park as a young kid, to sitting in front of the castle with her boyfriend and brothers just a couple months ago.
One of her favorite memories, she shared, was when she would, "Go off at night with her cousins and run around trying to get on as many rides as we could before the park closed."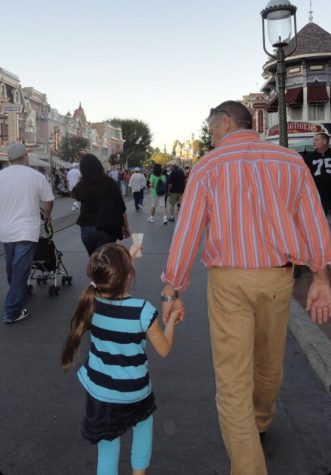 All these experiences with her family help her to enjoy the park, but she also thinks that the park deserves praise for it's amazing rides and Disneyland "magic."
"My favorite ride is Splash Mountain because I really like the drop and then waddling around all soaked. One of my favorite places is in front of the castle, especially late because nobody's there at one in the morning and it's really pretty," Garcia elaborated.
Elisa Esparza, junior and Garcia's childhood friend, has watched Garcia's Disneyland fascination grow over the years. In fact, sometimes they just plan out Disneyland trips together in their heads when they're bored.
Esparza stated, "Every time Ava's at Disneyland, I really look forward to looking at the pictures. It's so fun and makes me want to go more often."
Garcia loves Disneyland and it will always hold a special place in her heart. Her childhood is rooted within its walls and Disneyland has intertwined with the rest of her life.