AP Psychology with Nighswonger
The study of psychology is something that interests many people, and here at Shadow Ridge, they even offer courses for it. One of the tougher courses is AP Psychology taught by a favorite teacher of many, Matthew Nighswonger! The class goes over everything psych, taking a deeper dive into things like development, thinking, and behaviors. Nighswonger makes sure his students are well prepared for the AP exam at the end of the year, while still keeping them engaged and excited as well.
Nighswonger has been teaching this course for 10 years overall, being the other course he teaches alongside Government, which is only offered to seniors. He teaches AP Psychology 5th and 6th period, and he enjoys both periods equally, stating that he has no favorite between the two.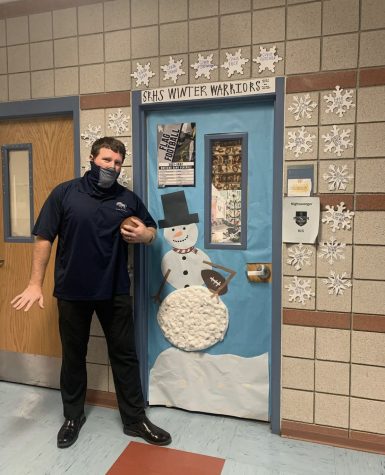 There are many reasons that his students decided to take psychology. "[…] I had an interest in psychology," says junior, Camryn Moore, who is a student in Nighswonger's 5th period class. Nighswonger started teaching the course because he felt like he had knowledge to share. "Psych has so many real life applications, it is fun to show that to students. I have also been a reader for the AP Psych exams in the past, so I have some great inside knowledge about how the tests are graded," says Nighswonger.  Psychology is a very easy subject to get into because it can teach you more about yourself. Nighswonger states, "The connections that you can make in real life" are the best part about teaching the class. Although, the hardest part is something that he and students alike can struggle with.
"The AP test prep is so broad that it is difficult to cover all of the needed material," says Nighswonger. Psychology is made up of many different parts, which is why it takes a lot of time to study for those who choose to pursue it in their college education as well. It can be hard for students and teachers to cram all of the information into 2 semesters and ensure that all of the important AP test material is taught as well. But if anyone can find a way, it's Nighswonger.
Are You Going To Take AP Psych Next Year?
Sorry, there was an error loading this poll.
On top of adequately preparing students for the AP exam, Nighswonger makes sure to focus on what his students what to study as well. Many psychology students like to focus on specific things that apply to them, or things that they find interesting. "Mental illnesses," Moore states, are what she wants to learn more about, as do many of the other psychology students, although there are many other sections of psychology as well.
Word to Nighswonger himself, #Psychislife!