The Jonas Family Sharing Southern Love
In 2016 the Jonas Brothers' father Kevin Sr. opened a restaurant called Nellie's Southern Kitchen in Belmont, North Carolina. The Jonas family loves Las Vegas and they are excited to bring their restaurant and great southern cooking here. The location of the restaurant will be inside the MGM Grand Hotel, and is scheduled to debut in early 2022. Nellie was the grandmother of Kevin Sr. and great grandmother to Nick, Kevin, Joe, and Frankie, she passed away in 2011 and the restaurant is in remembrance and honor of her. 
"A Jonas family experience in the name of Nellie's Southern Kitchen is set to debut at the MGM Grand in early 2022, according to a Monday press release," states 13 KTNV Las Vegas. 
People can hope to see the restaurant in the next couple months at the hotel on the Strip. 
"Guests will be able to enjoy such dishes as warm biscuits, chicken & dumplings, Hawg Hill smoked pulled pork sandwich, chicken and gravy, Southern meatloaf, and chicken and waffles with cinnamon-honey butter. The restaurant will also feature an extensive cocktail menu," explains 13 KTNV Las Vegas. 
Are you excited about The Jonas Family Restaurant?
Sorry, there was an error loading this poll.
The restaurant will bring all the love and comfort food of the south to busy Las Vegas for everyone to enjoy and love.
The restaurant is a great way to embrace comfort food, hospitality, and Southern charm of the Jonas family roots of the 1760's in North Carolina. 
"With an atmosphere inspired by Jonas' love for music, the vibrant space will be a lively spot for all ages to enjoy fresh, flavorful dishes and live entertainment," said 3 News.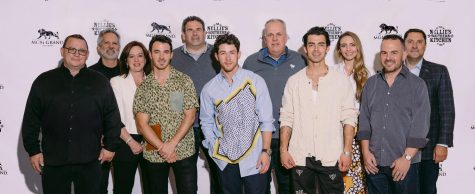 The restaurant will be a welcoming and fun environment for everyone to enjoy. 
"You may have heard about the family in the context of the first, the three superstar Jonas Brothers having made quite a name for themselves in the past decade and a half. But follow the other thread back a few generations and you'll find a family that loved making music with each other around the dinner table, enjoying some Southern comfort food while they were at it," said Las Vegas Review Journal. 
The three Jonas brothers Kevin, Joe, and Nick have become very famous throughout the years, the family has loved music and good southern cooking since they were young in the kitchen together as a family.