Pin It to Win It
For Sam Gallardo, junior, wrestling runs through his veins. Except for his mom and sister, his whole family is a family of wrestlers. So, it was no surprise that when Gallardo made it to high school, he joined the wrestling team. What was surprising, however, was how amazingly well he did. He was the only Shadow Ridge freshman to take place at state. Since he started wrestling as a Mustang, he's won regionals twice and placed third at state twice. With Gallardo potentially facing a delay in his season for this year, he has continued training and is still very excited and motivated for another year of wrestling.
Gallardo has continued wrestling with his family and his teammates in his garage, in preparation for the season that, eventually, could come back. He also wrestles as part of a club team called Aniciete Training Club, helping him become a better wrestler, even when he's not wrestling for Shadow Ridge.
Gallardo explained, "My favorite part about wrestling is bonding with my teammates. We have a really strong bond as we like to hang out and wrestle with each other outside of school."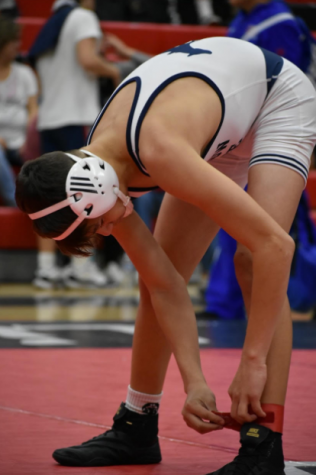 He understands the importance of a team that becomes a family, and so do his teammates. One of these teammates, Trent Smith, junior, has been wrestling with Gallardo since 8th grade.
Smith stated, "Sam is really dedicated to the sport of wrestling and he often hosts wrestling practices at his house, inviting all of the team. He is also a great friend by offering both life and wrestling advice on how he believes you can improve."
Gallardo works very hard to improve both other members of the team and himself. However, it takes a lot of effort and sometimes improving can be pretty difficult.
"My least favorite part is probably cutting weight. In wrestling, you may have to drop a few pounds to be at your desired weight class and I had to do that a lot last year. Another one of my least favorite parts is losing. I hate losing more than I love winning and I think that makes me a good wrestler," Gallardo shared.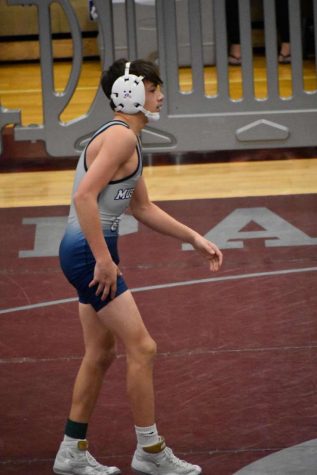 Although Gallardo's primary motivation is that he really wants to make his parents proud, he is also motivated by the goals he sets. Although the wrestling season is still in question, that doesn't keep him from having high aspirations.
Gallardo said, "Something I am looking forward to, if wrestling comes back, is wrestling at state and getting that state title. Winning state has been a big goal of mine and this year could definitely be my year."
Looking forward to the year ahead with a positive attitude and high hopes of a state title, Gallardo is clearly willing to put in all the work it takes to succeed.
"When you first start wrestling, it is going to be hard and uncomfortable but no matter what happens you have to stick with it and be patient. The only way you will get better is if you continue to do it and keep coming back," Gallardo advised.