Mustang Rodeo Champions!
Yeeehaw! Over Winter Break, the Women's Flag Football Team hosted the fourth annual Mustang Rodeo, a twelve team flag football tournament held at Shadow Ridge High School. 3A, 4A, and 5A schools were all represented in the tournament, competing for the same trophy, no matter what their sports classification was.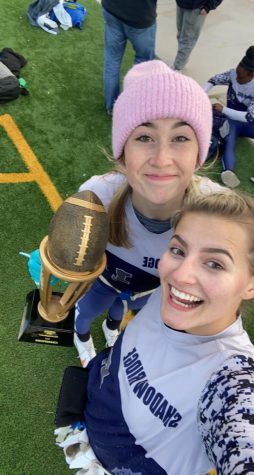 Head varsity coach, Coach Nighswonger, was especially looking forward to playing Green Valley High School, one of Las Vegas's most successful flag football programs, who also happen to be the two time defending Mustang Rodeo champions, as well as the two time defending state champions.
"Holding Green Valley to 13 points in the championship game was one of the highlights of this tournament for me because the girls really executed what we had been working on in practice," Nighswonger stated. "They [Green Valley] have a great offense and are difficult to keep out of the endzone. Holding them to 13 points was a great defensive accomplishment."
Senior safety, Dyva Jones, is an instrumental part of the Mustang defense and Nighswonger relies on her to keep the opponent's scores to a minimum. Nighswonger named Jones "Defensive Player of the Mustang Rodeo."
Nighswonger said, "Dyva Jones was our defensive general, she had 12 flag pulls, 1 sack, 2 interceptions, and a defensive touchdown."
"
I think we performed phenomenal as a team! Our greatest strengths were just trusting one another, and taking it one game at a time."
— Dyva Jones
Not to be outdone by the defense, the Mustang offense played a huge role in the tournament victory as well. Nighswonger relayed that the Mustangs had to out hustle the other teams and stay disciplined in their roles and assignments on the field.
"Quarterback, Mikayla Brown, was the Offensive Player of the Mustang Rodeo, she had almost 800 yards passing with 10 touchdown passes and no interceptions," stated Nighswonger.
The Mustangs haven't won the Mustang Rodeo since the inaugural 2017-2018 season, so winning this year was extremely exciting; Nighswonger was pleased to see all of the progress his team made in general.
Nighswonger said, "The greatest reward for me as a coach is seeing the girls grow as people and gain more confidence. Football is a difficult sport, everyone is going to make mistakes. It is a good lesson to learn how to quickly move on from making those mistakes."
With the Mustang Rodeo trophy under their belts, the Women's Varsity Flag Football Team can focus on their next goal, winning the state championship.
"We try to get better each day, practice, and game. If we continue to improve we will have a great chance in the playoffs. We hope to have our best game of the season on February 22 in the state championship game," stated Nighswonger.