Mask Mandate Here To Stay
Due to the recent surge in positive COVID-19 cases worldwide because of the omicron variant, the Nevada mask mandate stays. When many people started to believe that the indoor mask mandate would pass over the holiday season, the skyrocket in positive cases is keeping the mask mandate into 2022. Omicron, a highly spreadable COVID-19 variant, is the cause of a record number of daily cases, despite the introduction of the vaccine.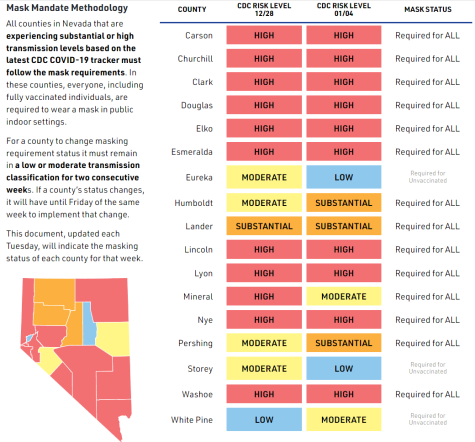 Nevada Governor Steve Sisolak says, "Cases are still running a little higher than we'd like. We're lower than the national average which is good, and I appreciate everybody complying as best they possibly can."
How does this affect Clark County schools? CCSD is continuing with the indoor mask mandate as well as requiring seating charts and creating the COVID-19 Hotline. There is also discussion among the Board of Trustees regarding vaccine mandates for staff.
"
Everything with COVID is in flux. I mean, the new omicron variant coming through is making it more difficult."
— Steve Sisolak
CCSD states, "We are working with local and state health officials to monitor ongoing COVID-19 developments and are aware of the recent surge in positivity rates in our community. Mitigation strategies are in place to protect the health of our students and staff through our cleaning protocols by preparing CCSD schools and facilities for their safe return."
Teacher Rebecca Kennard responds, "None of this is new… A custodian came in to give me new hand sanitizer, three new bottles, and I got an email to upload my new seating charts for the quarter to our Canvas account. That's it."
CCSD schools are also under a massive staff shortage. There aren't enough custodians to fully disinfect schools to properly prevent the spread of COVID-19, as well as a shortage of substitute teachers.
Executive Director of the Clark County Education Association, John Vellardita says, "We have a shortage of substitutes, and we have a number of classrooms who have a lot of kids in them."
Although everyone is sick of having to wear masks since April 2020, it appears as though the indoor mask mandate for Nevada is here to stay. Hopefully, in the near future, an increase in vaccinations and enforcement of the mask mandate by school districts and businesses will slow positive rates down enough so there is no need for a mask mandate.