Wrestling Preview
The Shadow Ridge Wrestling program has historically been one of the top programs in Las Vegas.  This year is no different as they not only look to Defend the Ridge, but they look to make a deep run into the state playoffs, both as a team and individually.  Even though they don't have many returners, they have a lot of new faces who they expect to do great things.  The 2019-2020 season saw the Mustangs with a 2nd place state finish, Mountain Regional Championship, and Division Championship.  This included 9 State Qualifiers, for an overall 29-2 in Dual Competitions, including Dual Tournaments.
"
The year before the pandemic we were celebrating a Regional Title as well as placing second at the State Championships.  We had two individual state champs with Noah Gallardo now wrestling at Minot State, and Weston Presser, now wrestling for Northern Idaho.  We had a great group coming back before Covid.  We are young and trying to get kids ready to compete.""
— Coach Gledhill
They started off the 2021-22 season competing in the Liberty Classic Tournament in Peoria, Arizona.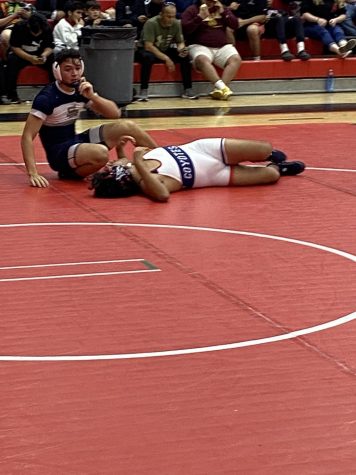 Coach Gledhill stated, "We improved this weekend.  We are young, but will get better every week.  We placed 3rd as a team.  Sam Gallardo placed first, Arona Villatora placed 2nd, Luciano Esoldo and Colby Partida placed 4th, Aaron Coverdell, Ricardo Fernandez, and Ramon Moore placed 5th." Coach Gledhill continued, "We are expecting some big things from Sam Gallardo and Trent Smith. They are both our leaders on the team, and should be wrestling for a State title when all is said and done.  Trent hasn't wrestled yet because he is battling an injury and working hard to get back on the mat.  Sammy just wrestled really tough guys this past weekend and did a great job leading the team.  The goal is always to win our region and compete for a state title.  That's the expectation.  We are in the 5A division, so we have all of the big dogs.  The biggest is Slam Academy which gets to recruit kids, and they are a charter school.  They will be tough to beat.  They are the Bishop Gorman of wrestling."
Sophomore, Aaron Coverdell stated, "It was a great experience being able to compete although the outcome wasn't what I wanted.  I know there is lots of work to do and I just have to keep getting better."
Sophomore, Mark Shutt said, "My favorite part about wrestling is being able to slam people to the mat. I also love watching and learning the sport from all my teammates."
This year will be an exciting year to watch Mustang Wrestling.  The schedule for the remainder of the season is located here.