Merge Of Rival Waterparks
This month, it was announced that Cowabunga Bay and Wet'n'Wild decided to merge under the Cowabunga brand. This was decided earlier this year. With this merge the Wet'n'Wild name is being changed to Cowabunga Canyon, and Cowabunga Bay is staying the same. 
"The Pyek Group will now invest in a new Nevada-based partnership that will own the current Wet'n'Wild Las Vegas and Cowabunga Bay waterparks," explains 8 News Now.
Are you excited about the merge of the two waterparks?
Sorry, there was an error loading this poll.
A partnership that is local joins Cowabunga Bay and Wet'n'wild to better both of the companies and make the waterparks more enjoyable for the upcoming 2022 summer. 
"The partnership intends to operate the two parks under the Cowabunga brand, with Cowabunga Bay retaining its name and Wet'n'Wild Las Vegas being renamed to Cowabunga Canyon when it reopens during the summer of 2022," states 3News.
Since the partnership is happening under Cowabungas brand Wet'n'Wild had to change their name.
"As for other notable changes, Cowabunga Bay and Cowabunga Canyon will offer new season pass options and several new perks to be announced in the coming months," says 8LasVegasNews
Some changes were made to accommodate the partnership and the customers wants and needs for the upcoming summer season.
The original Wet'n'Wild was built in May of 1985. The old one was on the Strip; it was part of the community and a big part of the city. The old waterpark was bigger than the one now. The new and existing one was built in 2013 and it is now being sold to Cowabunga Bay. Many people were fans of the old one rather than the new one. This was because it was more convenient to get to and since it was bigger in size there were more rides, and they could be bigger and better. Wet'n'Wild is located just 20 minutes from the Strip where it originally was Wet'n'Wild. Even when the waterpark is renamed to Cowabunga Canyon it will stay in the same location.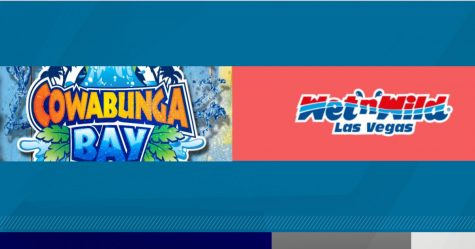 As for Cowabunga Bay it was originally built in 2014 just one year after Wet'n'Wild was rebuilt. The waterpark was originally scheduled to debut in 2013, but there were many construction delays that postponed their opening. Cowabunga Bay is located in the Henderson area near Galleria Mall Cowabunga Bay. 
Wet'n'Wild and Cowabungas Bays agreement to merge was finalized earlier this year. The merge is happening under Cowabungas brand which made Wet'n'Wild change their name to Cowabunga Canyon. With the merge new season tickets and passes will be offered to accommodate most customer's wants and preferences.