Enchant Christmas Las Vegas
Las Vegas isn't typically known for its winter festivities, but locals know that it's filled with many like the Glittering Lights, Ice Skating, the Magical Forest and many more. But this year, there's one more holiday celebration coming to Las Vegas called Enchant Christmas coming to the Las Vegas Ballpark November 26th.
In 2008, 2 teenagers in Vancouver, British Columbia decided they were going to help their neighbors put up their Christmas lights, and that was the start of something new. For years, their business grew bigger as they took on bigger buildings, like malls, for the holidays. And although there was much success, the one thing that changed it was when Cam Walker, Kevin Johnston, the co-founders of Enchant, were at dinner with their wives and Walker's wife brought up the idea of a light maze. They went to work on the idea of Enchant immediately, and the first ever Enchant was opened in 2016.
"After our success with the Rangers, The Mariners reached out to us about bringing Enchant Christmas to Seattle. The next year, The Nationals reached out to us. Then the Tampa Bay Rays," Enchant Christmas stated about the spread of the event.

Now Enchant is open in 4 cities across America and is coming to Las Vegas November 26th. Although they got their start from a light maze, it's not the only thing Enchant has to offer. Enchant has many fun winter activities like ice skating, a village, and Santa Claus.
"It looks really fun, I'd like to go," sophomore Aryana Chasing Horse says.
The light maze, which is a fan favorite, is exactly what it sounds like. There's a maze and it is lit up, but in this light maze, there's a story behind it. At Enchant's light maze, 9 of Santa's reindeer have gotten lost in a snowstorm and it's up to the attendee to help them find their way out. There's also The Village, a Nordic-inspired Christmas market for adults and kids alike to buy gifts and treats. Of course there's also a special place to meet Santa himself and to go ice skating.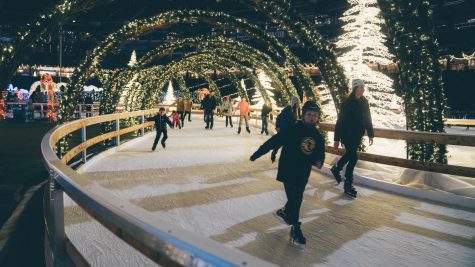 Something special that Enchant does is something called "Nights of Wonder,"  which is when they set aside specific days to celebrate something special. This year in Vegas, there's 5 nights of wonder which consist of, The opening weekend (Nov. 26th), Sharing & Caring (Nov 30th, Dec 7th, 14th), Spirit of Las Vegas (December 1st, 8th and 15th), Feasts and Treats (Dec 2nd, 9th,16th)  and Paws and Claws (Dec 3rd).
Will you go to Enchant Christmas?
Sorry, there was an error loading this poll.